Enterprise Wiki
List of Wikia wikis - The Wiki Wiki - a wiki about wikis from Wikia. HOW TO: Use Wikis for Business Projects. Jeff Hobbs is Director of Engineering at ActiveState and works on Workspace and dynamic languages.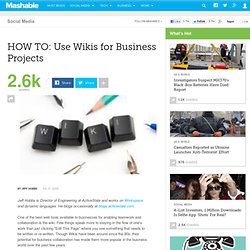 He blogs occasionally at blogs.activestate.com. One of the best web tools available to businesses for enabling teamwork and collaboration is the wiki. Few things speak more to staying in the flow of one's work than just clicking "Edit This Page" where you see something that needs to be written or re-written. Though Wikis have been around since the 90s, their potential for business collaboration has made them more popular in the business world over the past few years. While a wiki can let project documentation grow organically as a project unfolds, it is like any tool and needs to be used the right way to get the most out of it. 25 Tips for a Better Wiki Deployment. Android Apple IT Management Networking More Slide Shows Video Blogs Research Center Small Business Virtualization Database Developer PC Hardware Servers eWEEKChat eWEEK at 30.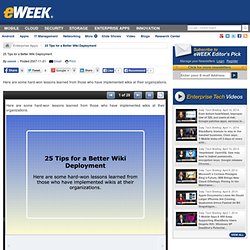 WikiMatrix - Compare them all. Enterprise Wiki Success Story from Janssen-Cilag. Here is another cross post from my FASTForward look at enterprise success stories.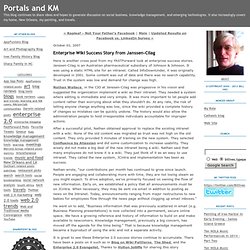 Janssen-Cilag is an Australian pharmaceutical subsidiary of Johnson & Johnson. It was using a static HTML site for an intranet. Called InfoDownUnder, it was originally developed in 2001. Some content was out of date and there was no search capability. Wikis versus Knowledge Management: Enterp. Now you can say that this is apples and oranges and there is certainly some truth to this thought.
However, many of the people who implemented knowledge management are now looking to implement wikis. What can they learn from their past experiences and what should they unlearn? I recently read, Stewart Mader's excellent book, Wikipatterns . You can find a good general review of the book in this blog, see wikipatterns – The First Enterprise 2.0 Playbook by Jevon MacDonald . Parts of Stewart's book took me back ten or more years ago to promoting knowledge management best practices. What Is Wiki. Wiki is in Ward's original description: The simplest online database that could possibly work.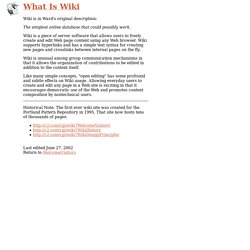 Wiki is a piece of server software that allows users to freely create and edit Web page content using any Web browser. Wiki supports hyperlinks and has a simple text syntax for creating new pages and crosslinks between internal pages on the fly. Wiki is unusual among group communication mechanisms in that it allows the organization of contributions to be edited in addition to the content itself. Sites using MediaWiki. Sites using MediaWiki Besides Wikimedia sister projects, many other sites exist that are using MediaWiki engine.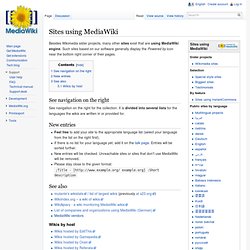 Such sites based on our software generally display the Powered by icon near the bottom right corner of their pages.
---