Steampunk
A Visit to a Steampunked Home. If you dropped by my house you'd probably be disappointed.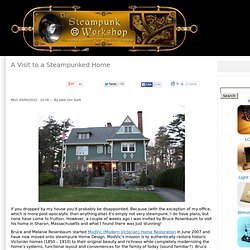 Because (with the exception of my office, which is more post-apocalytic than anything else) it's simply not very steampunk. I do have plans, but none have come to fruition. 12 Steampunk Gadgets and Designs. Steampunk is a sub-genre of fantasy and speculative fiction set in an era or world where steam power is still widely used.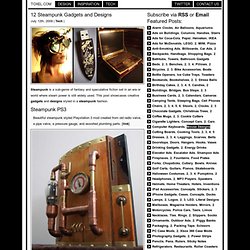 This post showcases creative gadgets and designs styled in a steampunk fashion. Steampunk PS3 Beautiful steampunk styled Playstation 3 mod created from old radio valve, a pipe valve, a pressure gauge, and assorted plumbing parts. [link] Robots in Arts. "QUANTUM SHOT" #363Link - by Avi Abrams Also read Part 1, Part 2, Part 3, Part 4 Compelling Art from Found Objects This is the kind of creativity that can be practiced virtually anywhere, given the tools and a some personal space for tinkering (minus the annoying calls from upstairs to take care of the garbage).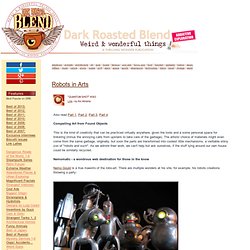 The artists' choice of materials might even come from the same garbage, originally, but soon the parts are transformed into coolest little mechanisms, a veritable shiny zoo of "robots and such". As we admire their work, we can't help but ask ourselves, if the stuff lying around our own house could be similarly recycled.
---