Drinks
The Brazier Vegan Chocolate Shake. When I spoke to professional triathlete Brendan Brazier, he said that one of his readers was so inspired by the Thrive Diet (a vegan, mostly raw nutrition plan) that the reader opened a juice and smoothie bar dedicated to Brendan's book Thrive.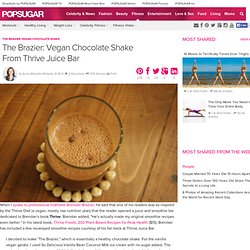 Brendan added, "He's actually made my original smoothie recipes even better. " In his latest book, Thrive Foods: 200 Plant-Based Recipes for Peak Health ($13), Brendan has included a few revamped smoothie recipes courtesy of his fan back at Thrive Juice Bar. I decided to make "The Brazier," which is essentially a healthy chocolate shake.
Snack Attack: Almond Berry Banana Yogurt Smoothie. Strawberries and blueberries are in season now, so stock up and use them to make this delicious yogurt smoothie.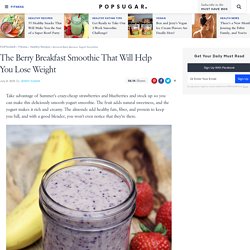 The fruit adds natural sweetness, and the Greek yogurt makes it rich and creamy. I like to add almonds to my smoothies because not only do they add fiber and protein, but they give the smoothie an interesting slightly crunchy texture. A 16-ounce glass contains about 300 calories so it makes a tasty treat to enjoy for breakfast or a pre- or post-workout snack. To learn how to make this simple recipe and see the rest of the nutritional information, keep reading. Ingredients. Recipe For Chocolate Strawberry Banana Smoothie. If you're looking for a sweet treat, but don't want to sabotage your healthy goals with a high-calorie chocolate goodie, here's a recipe that's sure to satisfy your cocoa cravings.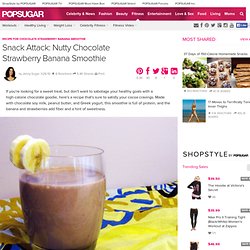 Made with chocolate soy milk, peanut butter, and Greek yogurt, this smoothie is full of protein, and the banana and strawberries add fiber and a hint of sweetness. Ready to indulge? Then keep reading. Pumpkin Spice Smoothie 2010-10-19 10:00:17. Can't get enough pumpkin?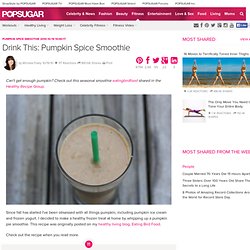 Check out this seasonal smoothie eatingbirdfood shared in the Healthy Recipe Group. Since fall has started I've been obsessed with all things pumpkin, including pumpkin ice cream and frozen yogurt. Detox Breakfast. The little cranberry, such an under appreciated fruit.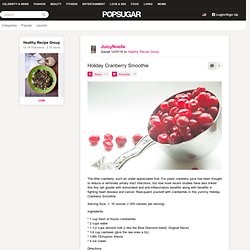 For years cranberry juice has been thought to reduce or eliminate urinary tract infections, but now more recent studies have also linked this tiny tart goodie with antioxidant and anti-inflammatory benefits along with benefits in fighting heart disease and cancer. Reacquaint yourself with cranberries in this yummy Holiday Cranberry Smoothie. Serving Size: 1, 16 ounces (~300 calories per serving) I Can't Believe it's Not a MILKSHAKE! I love protein shakes because I feel like I'm having a milkshake!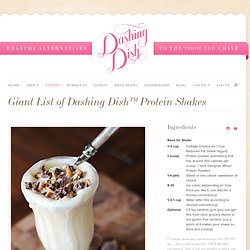 I like my shakes so thick that I have to eat them with a spoon, and sometimes I even add toppings. Protein shakes are an easy healthy breakfast that is ready in five minutes or less. They are delicious and I've never met anyone who doesn't like the creamy "milkshake-like" texture of my protein shakes.
---