Tutorials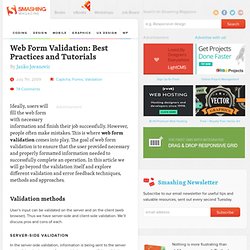 Ideally, users will fill the web form with necessary information and finish their job successfully. However, people often make mistakes. This is where web form validation comes into play. The goal of web form validation is to ensure that the user provided necessary and properly formatted information needed to successfully complete an operation. In this article we will go beyond the validation itself and explore different validation and error feedback techniques, methods and approaches.
Web Form Validation: Best Practices and Tutorials - Smashing Magazine
With jQuery becoming ever more popular, the volume and quality of plugins and tutorials that developers are releasing and writing are increasing rapidly. If you are looking for the latest in jQuery this is the post for you, all the plugins and tutorials in this post are new and fresh, they have only recently been published (within the last six weeks). Fresh jQuery Plugins
25 Fresh and New jQuery Plugins and Tutorials | Speckyboy Design Magazine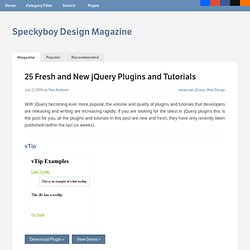 Dropbox File Uploader With Twitter Bootstrap Today we are going to use the new Dropbox Chooser to create a simple application that allows people to attach a photo from their Dropbox account, crop an area with the Jcrop plugin, and download the result.
jQuery | Tutorialzine | Page 2