Intégration
25 Fresh and New jQuery Plugins and Tutorials | Speckyboy Design Magazine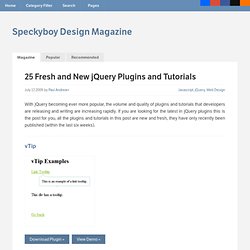 With jQuery becoming ever more popular, the volume and quality of plugins and tutorials that developers are releasing and writing are increasing rapidly. If you are looking for the latest in jQuery plugins this is the post for you, all the plugins and tutorials in this post are new and fresh, they have only recently been published (within the last six weeks). vTip Download Plugin »View Demo » vTip is designed to quickly provide lightweight (706b js, 272b CSS, 270b image) tooltips, using jQuery any element with a class of "vtip" will have it's title attribute turned into a sleek, customizable tooltip without the klunk and loading time of a large tooltip script. QuickFlip 2
FitVids.js A lightweight, easy-to-use jQuery plugin for fluid width video embeds. Download Files View Demo Convert a Menu to a Dropdown We'll create a dynamic menu that converts to a dropdown when viewed on a small screen.
Html5 & CSS3 layout tutorials and templates
15 Mar HTML5 defines the fifth major revision of the core language of the World Wide Web, HTML. It attempts to solve issues found in previous iterations of HTML and addresses the needs of Web Applications, an area previously not adequately covered by HTML. The Web Hypertext Application Technology Working Group (WHATWG) started to work on the specification in June 2004 and as of February 2010, the specification is in the "Last Call" state at the WHATWG.