Stuff I like from stumbleupon
Shuriken USB - StumbleUpon. The official Dilbert website with Scott Adams color comic strips, animation, mashups and more! Netflix. - StumbleUpon. Baby chameleons photo | one big photo - StumbleUpon. Random photo Submit your photo Stumble Thru.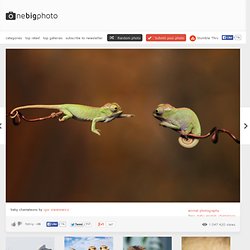 Pandas in love photo. Random photo Submit your photo Stumble Thru animal photography Tags: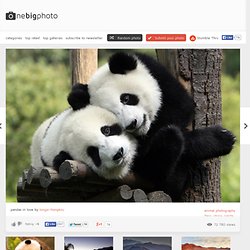 - StumbleUpon. Humor, humor en nog eens humor! - Thy Kings - StumbleUpon. Jup, ik heb weer een lading grappige plaatjes voor je.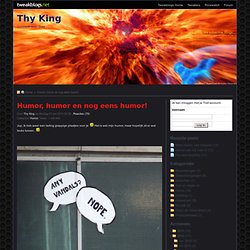 Het is wel mijn humor, maar hopelijk zit er wat leuks tussen.. Ik hoop dat u weer hebt kunnen genieten! Ok, nog 1 grap dan: The gynecologist who became a mechanic A gynecologist had become fed up with malpractice insurance and HMO paperwork, and was burned out. Hoping to try another career where skillful hands would be beneficial, he decided to become a mechanic. Simple Ideas That Are Borderline Genius (35 Pics) - StumbleUpon. Jonk Music: Best Songs of 2010: 100-86. 100.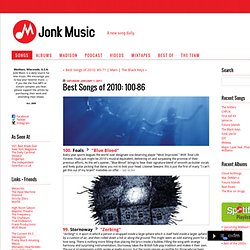 Foals "Blue Blood"Every year sports leagues the world over designate one deserving player "Most Improved. " Jonk Music: Best Songs of 2010: 85-71. 85.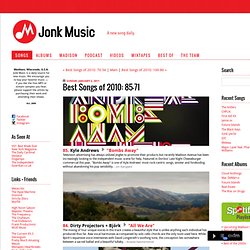 Kyle Andrews "Bombs Away"Television advertising has always utilized jingles to promote their products but recently Madison Avenue has been increasingly looking to the independent music scene for help. Featured in Doritos' Late Night Cheeseburger commercial this year, "Bombs Away" is one of Kyle Andrews' most rock-centric songs, sinister and foreboding without abandoning his pop sensibility. – Jon Kjarsgaard. Jonk Music: Best Songs of 2010: 70-56. 70.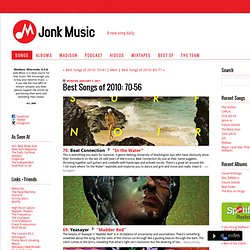 Beat Connection "In the Water"This is everything you want for summer. A genre-defying University of Washington duo who have obviously done their homework on the last 20-odd years of electronica, Beat Connection do just as their name suggests, throwing together surf guitars and cowbells with handclaps and echoed vocals. Jonk Music: Best Songs of 2010: 55-41. 55.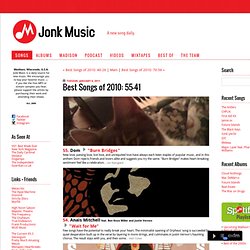 Dom "Burn Bridges"New love, passing love, lost love, and unrequited love have always each been staples of popular music, and in this anthem Dom rejects friends and lovers alike and suggests you try the same. "Burn Bridges" makes heart-breaking sentiment feel like a celebration. – Jon Kjarsgaard 54. Anais Mitchell feat. Jonk Music: Best Songs of 2010: 40-26. 40.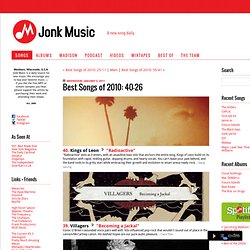 Kings of Leon "Radioactive""Radioactive" exits as it enters, with an assaultive bass solo that anchors the entire song. Kings of Leon build on its foundation with rapid, tinkling guitar, skipping drums, and hearty vocals. You can't leave your past behind, and the band nods to its gritty start while embracing their growth and evolution to smart arena-ready rock. – Stacey Lansing. Jonk Music: Best Songs of 2010: 25-11. 25.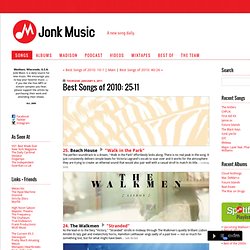 Beach House "Walk in the Park"The perfect soundtrack to a dream, "Walk in the Park" effortlessly bobs along. There is no real peak in the song. It just consistently delivers simple beats for Victoria Legrand's vocals to soar over and it works for the atmosphere they are trying to create: an ethereal sound that would also pair well with a casual stroll to match its title. – Lindsay Juley. Jonk Music: Best Songs of 2010: 10-1. 10.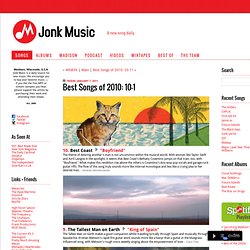 Best Coast "Boyfriend"The theme of desiring another's man is not uncommon within the musical world.
---