Form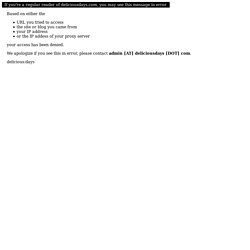 Please note that v14.5+ requires WP 3.3+ !! Please see the version history for what's new. Do you have any [cforms specific] customized files? Cforms supports a separate custom user folder to store your tailored CSS, font and image files! jQuery: working with select options | Making the best things! Bouts de code : Select Input. Note :Vous pouvez aussi changer de langue en tapant "E" pour lire le texte en anglais ou "F" pour le lire en français...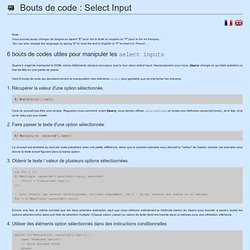 You can also change the language by typing "E" to read the text in English or "F" to read it in French ... 6 jQuery snippets you can use to manipulate select inputs 6 bouts de codes utiles pour manipuler les select inputs When it comes to manipulating the DOM, fewer elements are more tiresome than the good old select input. Tutoriel : formulaire 100% CSS3 sans image et sans JavaScript. Je vous invite à aller lire le tutoriel complet sur le CSS que j'ai écrit.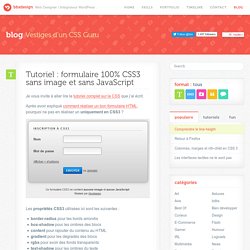 Après avoir expliqué comment réaliser un bon formulaire HTML, pourquoi ne pas en réaliser un uniquement en CSS3 ? Les propriétés CSS3 utilisées ici sont les suivantes : Clean and pure CSS FORM design. Opensource - AJAX - Jqtransform - jQuery form plugin. jQuery plugin : jqTransform Author : DFC Engineering License : GPL Release version : 1.1 Released on : 2009 August Release note: - add click event on checkbox and radio - Auto resize the select field if necessary Context This plugin is a jQuery styling plugin wich allows you to skin form elements.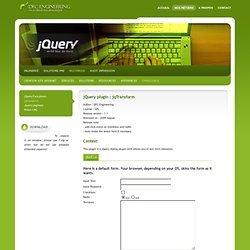 12 Excellent jQuery Plugins for Enhancing Forms | Web Design Ledger. Forms are part of almost every website.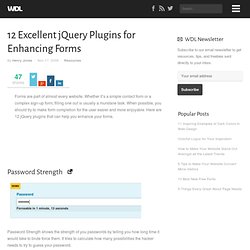 Whether it's a simple contact form or a complex sign-up form, filling one out is usually a mundane task. When possible, you should try to make form completion for the user easier and more enjoyable. Here are 12 jQuery plugins that can help you enhance your forms. Password Strength Password Strength shows the strength of you passwords by telling you how long time it would take to brute force them. Valider ses formulaires avec Javascript.
---