Cms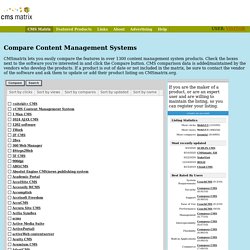 CMSmatrix lets you easily compare the features in over 1200 content management system products. Check the boxes next to the software you're interested in and click the Compare button. CMS comparison data is added/maintained by the vendors who develop the products. If a product is out of date or not included in the matrix, be sure to contact the vendor of the software and ask them to update or add their product listing on CMSmatrix.org. If you are the maker of a product, or are an expert user and are willing to maintain the listing, so you can register your listing. Listing Statistics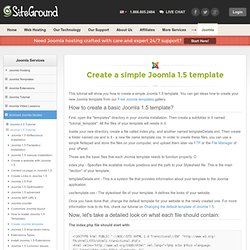 Joomla 1.5 Tutorial: Create Basic Joomla Template
This tutorial will show you how to create a simple Joomla 1.5 template. You can get ideas how to create your new Joomla template from our Free Joomla templates gallery. How to create a basic Joomla 1.5 template?
Disclaimer: All information on this site is deemed reliable but not guaranteed and should be independently verified. Neither the listing maintainers nor Plain Black Corporation shall be responsible for any typographical errors, misinformation, misprints and shall be held totally harmless. We welcome feedback about errors in the data on this site.
CMS Matrix - cmsmatrix.org - The Content Management Comparison Tool
Enquête : CMS Open Source, lequel choisir ?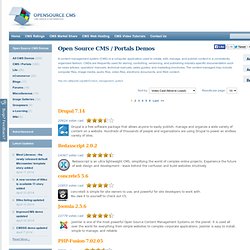 A content management system (CMS) is a computer application used to create, edit, manage, and publish content in a consistently organized fashion. CMSs are frequently used for storing, controlling, versioning, and publishing industry-specific documentation such as news articles, operators' manuals, technical manuals, sales guides, and marketing brochures. The content managed may include computer files, image media, audio files, video files, electronic documents, and Web content. http://en.wikipedia.org/wiki/Content_management_system
Open Source CMS / Portals Scripts
Aucune base de données Toutes les données sont stockées dans des fichiers xml. Une simple copie de fichiers permet de déplacer votre site sur une clé usb, ce qui le rend complètement portable. Outil collaboratif 5 profils avec des niveaux d'autorisations différents. Pour la famille, les amis, une entreprise, PluXml trouvera sa place.