Campaignmonitor
Quand une PME se pose la question de s'équiper d'un outil de routage d'emailing, son premier reflexe est probablement d'interoger un moteur de recherche pour trouver un prestataire. Malheureusement, les trop nombreuses réponses ne permettent pas de faire un choix dans l'heure, ni même dans la journée.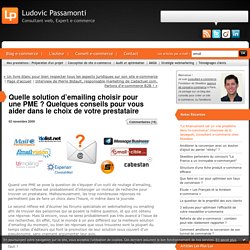 Quelle solution d'emailing choisir pour une PME ? Quelques conseils pour vous aider dans le choix de votre prestataire : Ludovic Passamonti - Consultant web et e-commerce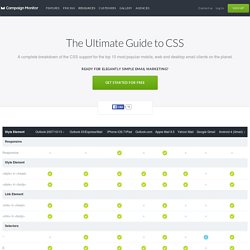 Designing an HTML email that renders consistently across the major email clients can be very time consuming. Support for even simple CSS varies considerably between clients, and even different versions of the same client. We've put together this guide to save you the time and frustration of figuring it out for yourself. With 24 different email clients tested, we cover all the popular applications across desktop, web and mobile email. As the number of email clients continues to grow, we've decided to simplify the web-based version of the guide to focus on the 10 most popular email clients on the market. For the complete report on all 24 email clients across the desktop, web and mobile email world, download the complete guide in PDF format.
We just published the latest quarterly results for worldwide email client usage. If you weren't already aware, we provide a handy report on exactly which email clients your subscribers are using for every campaign you send. We also share this data in a quarterly report showing interesting trends in worldwide email client usage. The latest stats are the result of analyzing the email client usage of more than 300 million people since the start of the year. Here's a quick summary of the 10 most popular email clients as of June 2009. Head over to the report to see the latest figures, or stick around for a quick discussion of some of the highlights.
Email Client Popularity: June 2009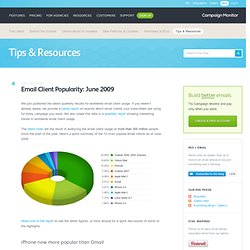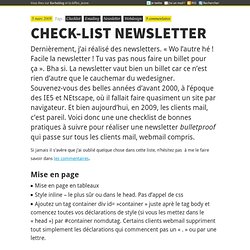 Dernièrement, j'ai réalisé des newsletters. « Wo l'autre hé ! Facile la newsletter ! Tu vas pas nous faire un billet pour ça ». Bha si. La newsletter vaut bien un billet car ce n'est rien d'autre que le cauchemar du wedesigner. Souvenez-vous des belles années d'avant 2000, à l'époque des IE5 et NEtscape, où il fallait faire quasiment un site par navigateur.
Check-list Newsletter