Actionscript
Vous n'êtes pas sans savoir que vous pouvez utiliser la touche Échappe ou Escape (en haut à gauche de votre clavier) pour pouvoir ensuite appuyer successivement sur deux autres touches afin d'insérer rapidement du code dans votre fenêtre Actions. Ainsi, en effectuant le raccourci Esc-s-t vous pouvez afficher la commande stop() dans votre code. Je devrais dire, vous pouviez ! En effet, pour celles et ceux qui connaissent Flash depuis de nombreuses années, vous aurez pu remarquer que les raccourcis de navigation ne fonctionnent plus depuis l'arrivée de l'AS3 ! Et bien en installant le module (l'extension) "Les raccourcis de Yazo.net", vous allez non seulement retrouver les Esc-g-s, Esc-s-t, etc., mais également découvrir de nouveaux raccourcis. Il vous suffit d'effectuer un premier raccourci d'aide (Esc-a-i) et vous découvrirez la liste des scripts que vous pouvez saisir rapidement grâce aux raccourcis de Yazo.net.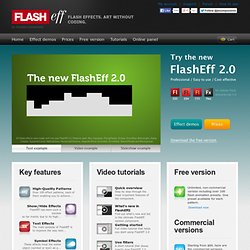 Key features High-Quality Patterns Over 100 effect patterns, each of them enabling you to achieve... Show/Hide Effects FlashEff has been such a successso far mainly due to its high... Text Effects The main purpose of FlashEff isto improve the way text... Symbol Effects These effects treat the entireobject (symbol or text) as a... View features and prices
gTween: A New Tweening Engine for AS3 Developers
Posted on August 18, 2008 by Grant Skinner There are a lot of great tweening engines out there. Personally, I'm a huge fan of Jack Doyle's TweenLite (and he's been incredibly productive adding new features lately). However, none of these libraries exactly fit the needs of me and my team. I wanted an engine that was small, fast, hugely flexible, and built from the ground up for AS3 and developers. The result was gTween. gTween is a small (4.5kb), fast (1500 instances, 0.5s duration, ~25fps), instance based tweening class, with a huge number of options and capabilities.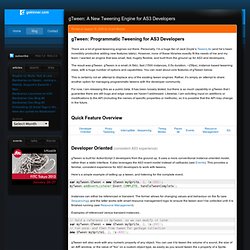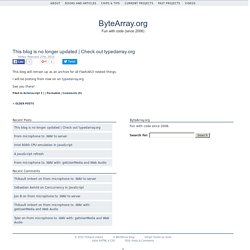 ByteArray.org > Actionscript 3 Experiments
Zynga released this week an open-source project called PlayScript, allowing ActionScript 3 developers to target mobile platforms leveraging the Mono runtime. For the context, Mono is an open-source implementation of the .NET runtime, with support for C#, F# and other languages. You want to develop or reuse a library developed with these languages?