Content Marketing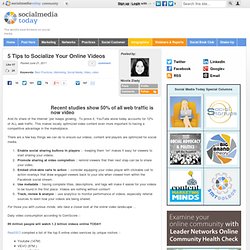 And its share of the internet `pie' keeps growing. To prove it, YouTube alone today accounts for 12% of ALL web traffic. This makes locally optimized video content even more important to having a competitive advantage in the marketplace. There are a few key things we can do to ensure our videos, content and players are optimized for social media. Enable social sharing buttons in players :: keeping them "on" makes it easy for viewers to start sharing your videos.
5 Tips to Socialize Your Online Videos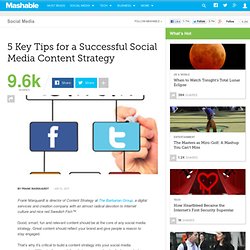 Frank Marquardt is director of Content Strategy at The Barbarian Group, a digital services and creation company with an almost radical devotion to Internet culture and nice red Swedish Fish™. Good, smart, fun and relevant content should be at the core of any social media strategy. Great content should reflect your brand and give people a reason to stay engaged. That's why it's critical to build a content strategy into your social media campaign. Without a framework for what you say and a plan for how and when you say it, you risk leaving your audiences, at best, confused. At worst, they'll ignore you.
I often get asked about whether content is more important than conversation in an online community. It really depends on the stage of the online community or the member. Content is important because it attracts new users to visit the community and inspires them to join. They see a piece of content they would like to have, they see topics that are of particular interest to them, or they spot a discussion that makes them feel like they have found a peer group.
'Content' or 'Community'? People Come For Content And Stay For Community Online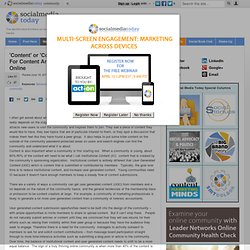 Ecrire à propos d'autres auteurs et nouer des relations
Se faire inviter sur d'autre plateforme de blog
Mettre au point un calendrier éditorial
Ajouter un widget de partage
Bookmarker le contenu sur Digg, Delicious, Reddit, etc.
Automatiser la diffusion du contenu sur les RS