Outils Internet
Accueil. Udutu | Online Collaborative Course Authoring. Browse Palettes. Log In Sign Up COLOURlovers Search Create Explore Over a Million Color Palettes.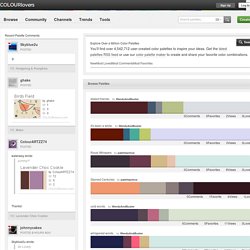 Tagul - Gorgeous tag clouds. Best Online Collaboration Tools 2012 - Robin Good... Les outils du Web 2.0. Idea Management - Innovation Management - Crowdsourcing - Suggestion Box - Customer Feedback - IdeaScale. Make your own personalized keyboard! We're huge fans of Gary Larson's Farside cartoons.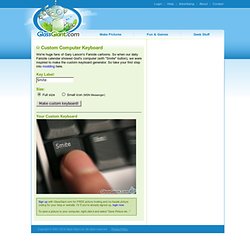 So when our daily Farside calendar showed God's computer (with "Smite" button), we were inspired to make the custom keyboard generator. So take your first step into modding here. Sign up with GlassGiant.com for FREE picture hosting and no-hassle picture coding for your blog or website. Or if you're already signed up, login now. Odosketch. 3DTin. Stypi.
Voki Home. 100+ Alternative Search Engines You Should Know. Google is the most powerful search engine available, but when it comes to searching for something specific, Google may churn out general results for some.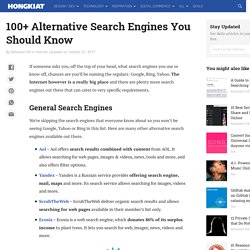 For instance, a search for a song in Google may return the singer, the lyrics and even fan sites – depending on the keywords you entered. This is when niche-specific search engines comes into the picture. 100 outils en ligne pour stimuler votre créativité. Selon de nombreux experts,la créativité n'est pas nécessairement innée, mais plutôt une qualité que vous pouvez développer et entretenir.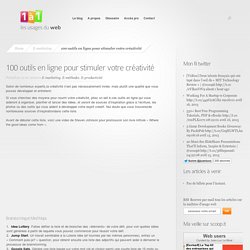 Si vous cherchez des moyens pour nourrir votre créativité, jetez un œil à ces outils en ligne qui vous aideront à organiser, planifier et lancer des idées, et seront de sources d'inspiration grâce à l'écriture, les photos ou des outils qui vous aident à développer votre esprit créatif. Nul doute que vous trouverezde nombreuses sources d'inspirationdans cette liste. Avant de débuter cette liste, voici une video de Steven Johnson pour promouvoir son livre intitulé « Where the good ideas come from ».
Brainstorming et Mind Maps Idea Lottery. The Generator Blog. Home » LibreOffice. Fax Gratuit par Internet - MonFax.com. 150 Best Windows Applications Of Year 2011 [Editor's Pick] At the dawn of 2011, we provided you with a list of 150 best Windows application of 2010.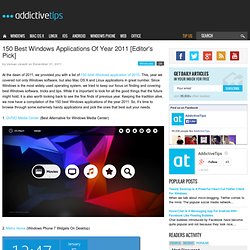 This, year we covered not only Windows software, but also Mac OS X and Linux applications in great number. Since Windows is the most widely used operating system, we tried to keep our focus on finding and covering best Windows software, tricks and tips. While it is important to look for all the good things that the future might hold, it is also worth looking back to see the fine finds of previous year. AlternativeTo - Alternatives To The Applications You Want To Replace. Créer un code QR en ligne - Générateur gratuit de codes QR.
---