Ipad
The latest puzzle game on iOS from King, Farm Heroes Saga , is probably their most lenient game yet in terms of difficulty, but you're still going to run into trouble if you just play haphazardly. The quotas on some stages are pretty high, so you'll want to have a gameplan for harvesting as many cropsies as possible in your limited number of moves. I recently sunk a lot of time into this one for our review, and have worked out some tips and advice to keep you moving through the game as smoothly as possible, without shelling out big bucks. I should start off by being clear about one thing, however. At the moment, you will eventually hit a gate, around stage 105, that you can't go past unless you pay real money or connect with people via Facebook. It's possible King will implement another means of passing those gates in the future, as with some of their other games, but for now, part of clearing every stage for free necessarily entails Facebook shenanigans...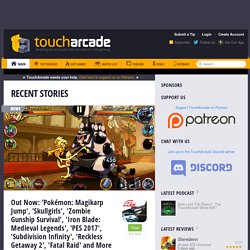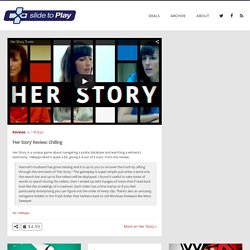 If you're a fan of the Sly Cooper games, this will interest you: Sony has just released Benley's Hackpack for iPad. The game, which originally came out last year for PlayStation 3 and PS Vita, contains three hacking mini-games from Sly's latest title: Thieves in Time. You can download the iPad game here for free. Read More Hey Austin gamers!
• Crimson: Steam Pirates Tops Charts• RoboArena Name Change and Schedule Update• Summoner Wars Coming in October• The Octagon Theory Coming• Caylus Schedule Update• King of Dragon Pass Released• Where is EveryGame?• Frantic Frankfurt Released• Scryptic Updated• Cabals Card Game Trailer• Ancient Trader HD Released• Cyclades iPad Coming Soon• Word Chat Update and Free• Snowpunch Info Update• Shadow Era Update• PicoGP Tactics Updated• Tigris and Euphrates Release Date Adjusted• Plaid Hat Podcast #18 Features Incinerator Studios• Haggis Schedule Update • Crimson: Steam Pirates at Top of Charts - September 3Just prior to our review of Crimson, it was widely reported on a number of web sites that the steam ship battle app had reached the top of the iPad charts as the most downloaded free iPad app during the week of Sep 3rd. One of the contributing reasons for this success was that Apple chose the title as the iPad game of the week.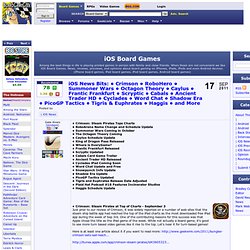 iOS News Bits: • Crimson • RoboHero • Summoner Wars • Octagon Theory • Caylus • Frantic Frankfurt • Scryptic • Cabals • Ancient Trader HD • Cyclades • Word Chat • Shadow Era • PicoGP Tactics • Tigris & Euphrates • Haggis • and More | iOS Board Games | Boa
De muitas madrugadas jogando Counter-Strike a 15 temporadas de Fifa sem simular um jogo, passando por um quase troféu de platina no infernal Demon's Souls, eu tenho o currículo do que as pessoas podem chamar de "gamer hardcore". E, mesmo assim, quando o primeiro iPad chegou em maio do ano passado à minha casa, os videogames foram perdendo atenção. Primeiro, o Nintendo DS e o PSP entraram indefinidamente na gaveta. Depois foi a vez do Wii, que foi parar no MercadoLivre.
o o iPad 2 virou meu videogame favorito