Ipad
Touch Arcade: iPhone Game Reviews and News. iPhone Game Reviews and iPad Game Reviews at Slide To Play - Featuring Apple iPhone, iPad, and iTouch Videos, Cheats, News, and Price Drops. iOS News Bits: • Crimson • RoboHero • Summoner Wars • Octagon Theory • Caylus • Frantic Frankfurt • Scryptic • Cabals • Ancient Trader HD • Cyclades • Word Chat • Shadow Era • PicoGP Tactics • Tigris & Euphrates • Haggis • and More | iOS Board Games | Boa. • Crimson: Steam Pirates Tops Charts• RoboArena Name Change and Schedule Update• Summoner Wars Coming in October• The Octagon Theory Coming• Caylus Schedule Update• King of Dragon Pass Released• Where is EveryGame?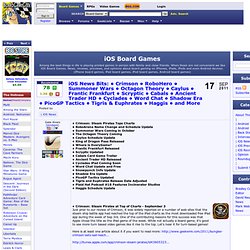 • Frantic Frankfurt Released• Scryptic Updated• Cabals Card Game Trailer• Ancient Trader HD Released• Cyclades iPad Coming Soon• Word Chat Update and Free• Snowpunch Info Update• Shadow Era Update• PicoGP Tactics Updated• Tigris and Euphrates Release Date Adjusted• Plaid Hat Podcast #18 Features Incinerator Studios• Haggis Schedule Update • Crimson: Steam Pirates at Top of Charts - September 3Just prior to our review of Crimson, it was widely reported on a number of web sites that the steam ship battle app had reached the top of the iPad charts as the most downloaded free iPad app during the week of Sep 3rd. One of the contributing reasons for this success was that Apple chose the title as the iPad game of the week. O o iPad 2 virou meu videogame favorito. De muitas madrugadas jogando Counter-Strike a 15 temporadas de Fifa sem simular um jogo, passando por um quase troféu de platina no infernal Demon's Souls, eu tenho o currículo do que as pessoas podem chamar de "gamer hardcore".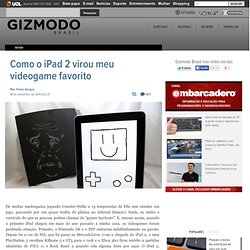 E, mesmo assim, quando o primeiro iPad chegou em maio do ano passado à minha casa, os videogames foram perdendo atenção. Primeiro, o Nintendo DS e o PSP entraram indefinidamente na gaveta. Depois foi a vez do Wii, que foi parar no MercadoLivre.
---