Outbound & Mobile Services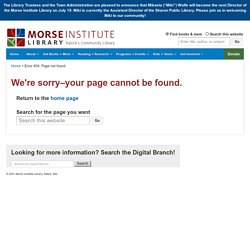 Bookmobile Natick's Bookmobile visits neighborhoods, the US Army Soldier Systems Center, and seniors.
Morse Institute Library - Natick, Massachusetts
Mobile Services Photo Gallery - The Seattle Public Library
Mobile Services - The Seattle Public Library
ALA Parade of Bookmobiles Please add a link to your library's bookmobile or mobile services web page: Adams County Library System Bookmobile (Gettysburg, PA)
List of Mobile Library Programs - Bookmobiles Wiki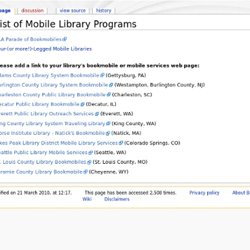 From 'Love Kitten' to child literacy
ADDIS ABABA, Ethiopia (CNN) -- At age 19, Yohannes Gebregeorgis borrowed a soft-cover romance novel entitled "Love Kitten" that changed his life forever.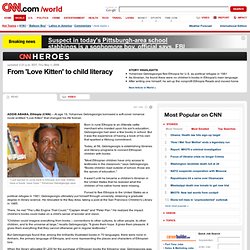 Libraries phase out bookmobiles - Orange County Register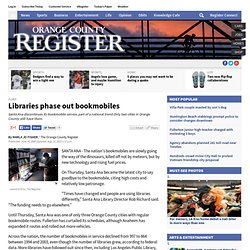 SANTA ANA - The nation's bookmobiles are slowly going the way of the dinosaurs, killed off not by meteors, but by new technology and rising fuel prices.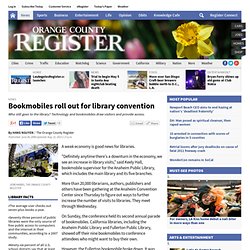 Bookmobiles roll out for library convention BOOKS IN A BLUR: The Riverside County Public Library bookmobile swooshes down Katella Ave. in a parade as part of the American Library Association meeting at The Anaheim Convention Center. Library facts •The average user checks out seven-plus books a year. •Seventy-three percent of public libraries were the only source of free public access to computers and the Internet in their communities, according to a 2007 study.
Bookmobiles roll out for library convention - Orange County Register
Acclaimed Colombian Institution Has 4,800 Books and 10 Legs
Africa | Donkeys boost Ethiopian literacy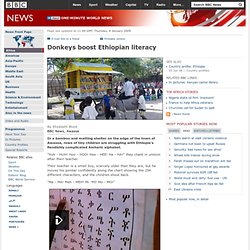 In a bamboo and matting shelter on the edge of the town of Awassa, rows of tiny children are struggling with Ethiopia's fiendishly complicated Amharic alphabet. "Huh - HUH! Hoo - HOO!
The excitement created by the Morse Library's bookmobile is palpable - Natick, Massachusetts - Natick Bulletin and Tab
On a calm Monday evening, the neighborhood of MacArthur Road was still and quiet.
NM Bookmobiles: Books For Those Without Libraries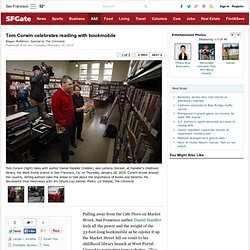 Pulling away from the Cafe Flore on Market Street, San Francisco author Daniel Handler feels all the power and the weight of the 33-foot-long bookmobile as he cajoles it up the Market Street hill en route to his childhood library branch at West Portal. Unused to navigating large vehicles - "I've never even driven an SUV" - he is remarkably calm as he chugs through traffic on a recent afternoon. "My wife made me promise not to do anything that would result in the headline 'Author Dies in Unfortunate Event,' " says the characteristically deadpan, pen-named author of Lemony Snicket's 13-volume orphan saga, "A Series of Unfortunate Events ." Except for one scarily sharp right turn with an inch- and-a-half clearance between the back wheel and a parked Toyota, Handler keeps his promise without breaking a sweat.
Tom Corwin celebrates reading with bookmobile
A few weeks ago, the Massapequa Library Bookmobile, which was taken off the road last summer after 48 years of service, was towed away to Alec Baldwin's Amagansett property. Mr. Baldwin, who grew up in Massapequa and whose father taught at the local high school, paid $1,000 for the forsaken vehicle, the library's director, Patricia Page, told the Transom. "We were thinking of scrapping it and then he called us himself," Ms. Page said. "I don't know how he heard about it, but he used it when he was younger and he seems to have a feel for this community."
Alec Baldwin Buys Massapequa Bookmobile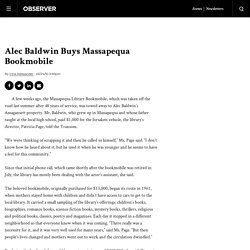 Newspaper photos and announcements
Ideas Collected at ABOS Annual Conference 2009 - Bookmobiles Wiki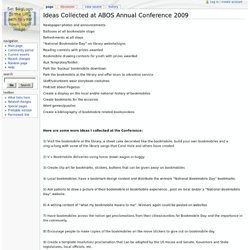 Bookmobiles Wiki - Bookmobiles Wiki
Wiki Basics
From NPR, a new program to deliver books to Seattlites via bike.
Book Mobiles