Outbound & Mobile Services
Morse Institute Library - Natick, Massachusetts. Natick's Bookmobile visits neighborhoods, seniors, the US Army Soldier Systems Center, and community events.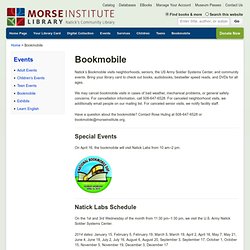 Bring your library card to check out books, audiobooks, bestseller speed reads, and DVDs for all ages. We may cancel bookmobile visits in cases of bad weather, mechanical problems, or general safety concerns. From 'Love Kitten' to child literacy. ADDIS ABABA, Ethiopia (CNN) -- At age 19, Yohannes Gebregeorgis borrowed a soft-cover romance novel entitled "Love Kitten" that changed his life forever.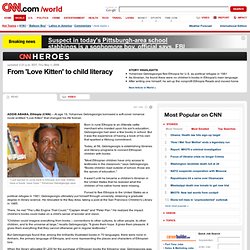 "I just wanted to come back to Ethiopia and help children have a future, have hope," Yohannes Gebregeorgis says. Born in rural Ethiopia to an illiterate cattle merchant who insisted upon his son's education, Gebregeorgis had seen a few books in school. But it was the experience of having a book of his own that sparked a lifelong commitment. Libraries phase out bookmobiles - Orange County Register. Libraries phase out bookmobiles NO MORE SEQUELS: Brian Terrones, 13, visits the bookmobile on its final day.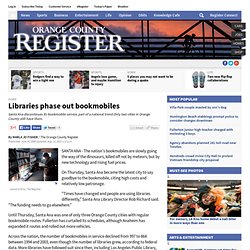 Leonard Ortiz, The Register SANTA ANA - The nation's bookmobiles are slowly going the way of the dinosaurs, killed off not by meteors, but by new technology and rising fuel prices. On Thursday, Santa Ana became the latest city to say goodbye to the bookmobile, citing high costs and relatively low patronage. Bookmobiles roll out for library convention - Orange County Register. Bookmobiles roll out for library convention BOOKS IN A BLUR: The Riverside County Public Library bookmobile swooshes down Katella Ave. in a parade as part of the American Library Association meeting at The Anaheim Convention Center.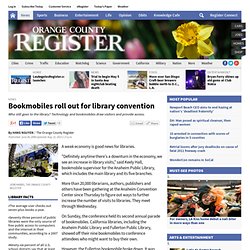 Library facts •The average user checks out seven-plus books a year. •Seventy-three percent of public libraries were the only source of free public access to computers and the Internet in their communities, according to a 2007 study. Acclaimed Colombian Institution Has 4,800 Books and 10 Legs. Africa | Donkeys boost Ethiopian literacy. In a bamboo and matting shelter on the edge of the town of Awassa, rows of tiny children are struggling with Ethiopia's fiendishly complicated Amharic alphabet.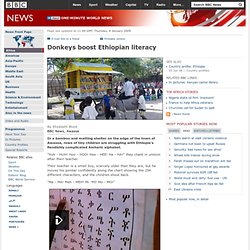 "Huh - HUH! Hoo - HOO! The excitement created by the Morse Library's bookmobile is palpable - Natick, Massachusetts - Natick Bulletin and Tab. NM Bookmobiles: Books For Those Without Libraries. Tom Corwin celebrates reading with bookmobile. Pulling away from the Cafe Flore on Market Street, San Francisco author Daniel Handler feels all the power and the weight of the 33-foot-long bookmobile as he cajoles it up the Market Street hill en route to his childhood library branch at West Portal.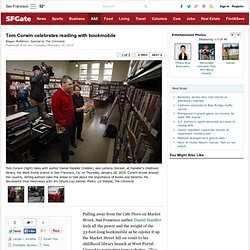 Unused to navigating large vehicles - "I've never even driven an SUV" - he is remarkably calm as he chugs through traffic on a recent afternoon. "My wife made me promise not to do anything that would result in the headline 'Author Dies in Unfortunate Event,' " says the characteristically deadpan, pen-named author of Lemony Snicket's 13-volume orphan saga, "A Series of Unfortunate Events. " Except for one scarily sharp right turn with an inch- and-a-half clearance between the back wheel and a parked Toyota, Handler keeps his promise without breaking a sweat. Book Mobiles. From NPR, a new program to deliver books to Seattlites via bike.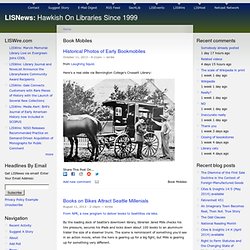 By the loading dock of Seattle's downtown library, librarian Jared Mills checks his tire pressure, secures his iPads and locks down about 100 books to an aluminum trailer the size of a steamer trunk. The scene is reminiscent of something you'd see in an action movie, when the hero is gearing up for a big fight, but Mills is gearing up for something very different. "If you're not prepared and don't have a lot of experience hauling a trailer, it can be kind of dangerous," Mills says, especially when you're going downhill.
---