Advocacy
I Love Libraries - News, Issues, Legislation, Careers & Advocacy for America's Libraries
Join the National Conversation About Mental Health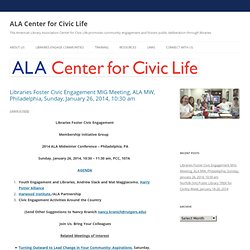 Civic Engagement
Resources: Lessons Learned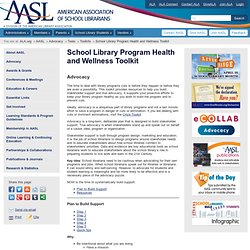 School Library Program Health and Wellness Toolkit (AASL)
The time to deal with library programs cuts is before they happen or before they are even a possibility. This toolkit provides resources to help you build stakeholder support and true advocacy. It supports your proactive efforts to keep your library program healthy as you work to build the program and to prevent cuts. Ideally, advocacy is a ubiquitous part of library programs and not a last minute effort to save a program in danger of cuts or elimination. If you are dealing with cuts or imminent eliminations, visit the Crisis Toolkit.
American Libraries - 10 Reasons Why the Internet Is No Substitute for a Library
Tips and Guidance for Managing and Communicating about the Internet The Internet is a rich and educational resource for information, ideas and entertainment.
Libraries & the Internet Toolkit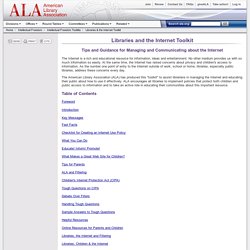 Funding
Visual Arts Resources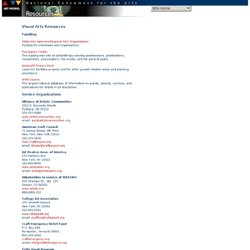 CSRL Home Page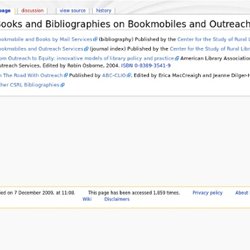 Books and Bibliographies on Bookmobiles and Outreach - Bookmobiles Wiki
Books and Bibliographies on Bookmobiles and Outreach
Bookmobile Vendors/Manufacturers - Bookmobiles Wiki
Michelle Harrell Washington Director, Office for Diversity and Office for Literacy and Outreach Services 800-545-2433, ext. 5295 Responsible for oversight and administration of the Office's activities and budget; serves as staff liaison for OLOS Advisory Committee, the Office's liaising round tables, affiliates and related groups; guides the office as it provides active consultation, facilitation and training on library outreach issues.
Office for Literacy and Outreach Services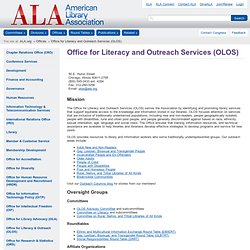 From 'Love Kitten' to child literacy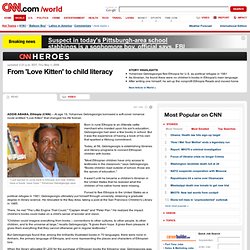 ADDIS ABABA, Ethiopia (CNN) -- At age 19, Yohannes Gebregeorgis borrowed a soft-cover romance novel entitled "Love Kitten" that changed his life forever. "I just wanted to come back to Ethiopia and help children have a future, have hope," Yohannes Gebregeorgis says.
Acclaimed Colombian Institution Has 4,800 Books and 10 Legs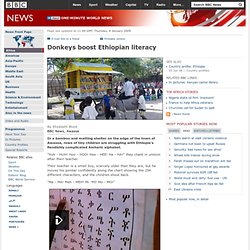 In a bamboo and matting shelter on the edge of the town of Awassa, rows of tiny children are struggling with Ethiopia's fiendishly complicated Amharic alphabet.
Africa | Donkeys boost Ethiopian literacy
On a calm Monday evening, the neighborhood of MacArthur Road was still and quiet. But as a large vehicle filled with books parked on the side of the street, neighbors from every direction suddenly emerged from their houses.
The excitement created by the Morse Library's bookmobile is palpable - Natick, Massachusetts - Natick Bulletin and Tab
allintitle: bookmobile OR mobile-lib... - Google News
ABOS-Association of Bookmobile and Outreach Services
Parade of Bookmobiles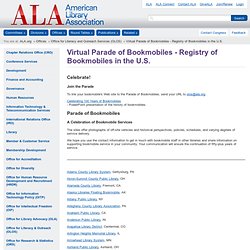 Celebrate! Join the Parade To link your bookmobile's Web site to the Parade of Bookmobiles, send your URL to olos@ala.org.
National Bookmobile Day Online Resource Center: http://www.ala.org/bookmobiles
National Bookmobile Day Celebrations - Bookmobiles Wiki
ALTAFF | National Friends of Libraries Week
October 19-25, 2014 Friends of Libraries groups have their very own national week of celebration! United for Libraries will coordinate the ninth annual National Friends of Libraries Week Oct. 19-25, 2014.
The Librarian's Guide to Gaming :: An Online Toolkit :: A Brief History of Gaming in Libraries
National Gaming Day @ your library
2014 Update: National Library Week is April 13-19, 2014. The 2014 theme is Lives change @ your library. Apply for the 2014 Scholastic Library Publishing National Library Week Grant.
Celebrate National Library Week 2011 (April 10-16)!First sponsored in 1958, National Library Week is a national observance sponsored by the American Library Association (ALA) and libraries across the country each April. It is a time to celebrate the contr
National Bookmobile Day (Wednesday, April 17, 2013) celebrates our nation's bookmobiles and the dedicated library professionals who provide this valuable and essential service to their communities every day. National Bookmobile Day is an opportunity for bookmobiles fans to make their support known—through thanking bookmobile staff, writing a letter or e-mail to their libraries, or voicing their support to community leaders. National Bookmobile Day is coordinated by the ALA Office for Literacy and Outreach Services (OLOS), the Association of Bookmobile and Outreach Services (ABOS), and the Association for Rural & Small Libraries (ARSL). About National Bookmobile Day National Bookmobile Day 2013 - Bookmobiles at a Glance (.pdf)
National Bookmobile Day
Center for Democracy & Technology | Keeping the Internet Open, Innovative and Free