How to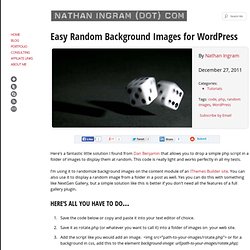 <?
Easy Random Background Images for WordPress :: NathanIngram(dot)com
How to create your own WordPress functionality plugin
A common, yet unfortunate practice in the WordPress community involves filling theme functions.php files with tweaks and functionality that is key to a site. The reason this is a bad idea, in short, is that it will tie your critical site functionality to a theme that will eventually change.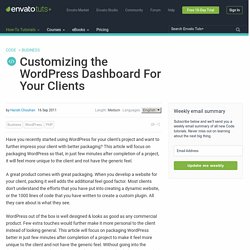 Have you recently started using WordPress for your client's project and want to further impress your client with better packaging?
Customizing WordPress For Your Clients
The dashboard is somewhat the heart of a blog. It controls all the content and the options of your blog. But, as we know, WordPress is not a custom product specific to one type of blog, but rather something that has been created to accommodate a wide variety of bloggers.
12 Useful Customization and Branding Tweaks for the WordPress Dashboard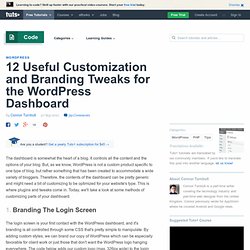 Spice Up Your WordPress Site by Giving Categories their Own Icons
One way to liven up your site a little and give it a little extra flair is to associate different icons with different categories. Or, you can do it for only one or two categories to really mark those off as different. When you assign a category an icon, the image that you've chosen will show up all over your site whenever a post from that category is present. Before we get into the code, let's take a look at how these icons might look on your site. Music Category Example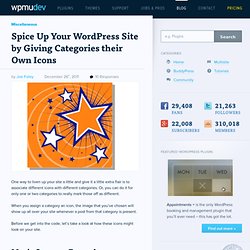 301 Redirect 301 redirect is the most efficient and Search Engine Friendly method for webpage redirection.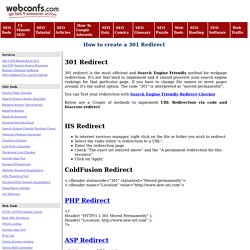 Resetting Your Password
Resetting Your Password Languages: English • 日本語 • Português do Brasil • Slovenčina • (Add your language) In WordPress, there is more than one way to set your password.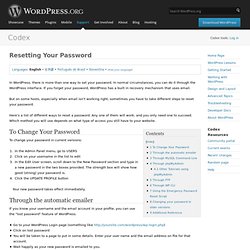 Despite an extensive codex, many WordPress users remain unfamiliar with how to create their own custom plugins. In today's screencast, we'll start from scratch and build our first usable plugin. For this example, we'll write a simple "tuts formatting" function that allows a blog editor to more easily format articles.
A Crash-Course in WordPress Plugin Development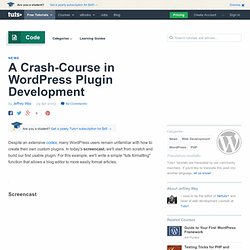 How to Write a WordPress Plugin: 12 Essential Guides and Resources
Want to learn how to extend WordPress? Consider this a crash course resource for building your own plugin. WordPress plugin development requires a little bit of personal initiative. Get ready to jump in and teach yourself. But where should you start? We've prepared a list of the most essential resources for those who are new to writing plugins.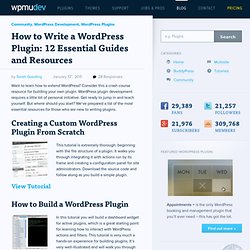 Adding Author Description/Biography in WordPress Themes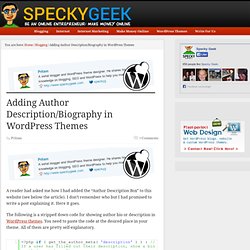 A reader had asked me how I had added the "Author Description Box" to this website (see below the article). I don't remember who but I had promised to write a post explaining it. Here it goes.
Migrating a WordPress/WPMU/BuddyPress Website | Interconnect IT - WordPress Consultants, Web Development and Web Design
Migrating a WordPress site can be something of a scary challenge, but we do it a lot, and we've become used to it. There are many good reasons to move a site – for example, you might set one up in a subfolder, and decide to move WP to the root. Or perhaps you've built a site on localhost and now need to put it on a live server.
Giving WordPress Its Own Directory Languages: English • Français • 日本語 • Русский • (Add your language)
Let say you have all of your default sidebar widgets (this is based on the HTML5 twenty ten theme): primary , secondary, first footer, second footer widget, third footer, fourth footer.
Adding Custom Widgets and Page Templates with WordPress | Design Shifts
WordPress Essentials: Interacting With The WordPress Database - Smashing WordPress
Advertisement
Developing WordPress Locally With MAMP - Smashing WordPress
Local development refers to the process of building a website or Web application from the comfort of a virtual server, and not needing to be connected to the Internet in order to run PHP and MySQL or even to test a contact form. One of the most annoying parts of development, at least for me, is the constant cycle of edit, save, upload and refresh, which, depending on bandwidth and traffic, can turn a menial task into a nightmare.
WordPress Essentials: How To Create A WordPress Plugin - Smashing WordPress
Wordpress Tutorial – Adding A Widget To Your Theme Files « Design Chemical – jQuery, Wordpress, Tutorials & Plugins
Goodbye, headaches. Hello, menus!
Wordcamp Phoenix - WordPress Plugins for Designers
How to Make a Badass WordPress Logo -- 3nhanced.com - Imagine, D