How to
Job boards
Mega menus. Backupbuddy info. Google Fonts. Wordpress.com. Wordpress.com. Learn WordPress.com. Easy Random Background Images for WordPress :: NathanIngram(dot)com. <?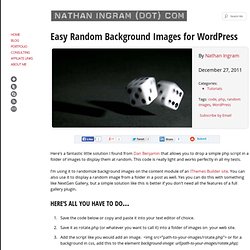 Php $folder = '. How to create your own WordPress functionality plugin. A common, yet unfortunate practice in the WordPress community involves filling theme functions.php files with tweaks and functionality that is key to a site.
The reason this is a bad idea, in short, is that it will tie your critical site functionality to a theme that will eventually change. Good news, though: there is a much better, smarter alternative. It's called a functionality plugin. We're going to create a very simple, very specific functionality plugin that you can (hopefully) use to replace your theme's functions.php file. After all, the poor guy deserves a break, doesn't he? Customizing WordPress For Your Clients. Have you recently started using WordPress for your client's project and want to further impress your client with better packaging?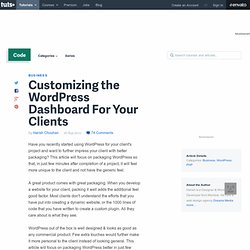 This article will focus on packaging WordPress so that, in just few minutes after completion of a project, it will feel more unique to the client and not have the generic feel. A great product comes with great packaging. When you develop a website for your client, packing it well adds the additional feel good factor. 12 Useful Customization and Branding Tweaks for the WordPress Dashboard. The dashboard is somewhat the heart of a blog.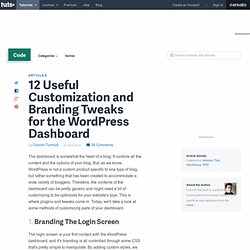 It controls all the content and the options of your blog. But, as we know, WordPress is not a custom product specific to one type of blog, but rather something that has been created to accommodate a wide variety of bloggers. Therefore, the contents of the dashboard can be pretty generic and might need a bit of customizing to be optimized for your website's type. This is where plugins and tweaks come in. Today, we'll take a look at some methods of customizing parts of your dashboard. Spice Up Your WordPress Site by Giving Categories their Own Icons. One way to liven up your site a little and give it a little extra flair is to associate different icons with different categories.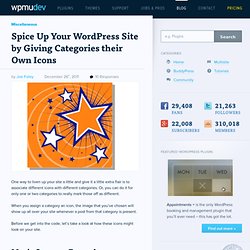 Or, you can do it for only one or two categories to really mark those off as different. When you assign a category an icon, the image that you've chosen will show up all over your site whenever a post from that category is present. Before we get into the code, let's take a look at how these icons might look on your site. Music Category Example. 301 Redirect - How to create Redirects. 301 Redirect 301 redirect is the most efficient and Search Engine Friendly method for webpage redirection.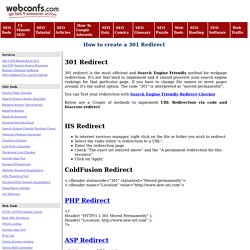 It's not that hard to implement and it should preserve your search engine rankings for that particular page. If you have to change file names or move pages around, it's the safest option. The code "301" is interpreted as "moved permanently". You can Test your redirection with Search Engine Friendly Redirect Checker.
Resetting Your Password. Resetting Your Password Languages: English • 日本語 • Português do Brasil • Slovenčina • (Add your language) In WordPress, there is more than one way to set your password.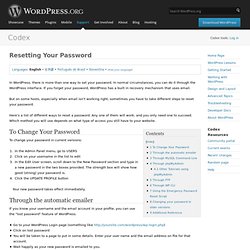 A Crash-Course in WordPress Plugin Development. Despite an extensive codex, many WordPress users remain unfamiliar with how to create their own custom plugins.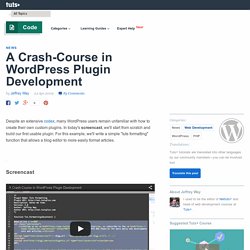 In today's screencast, we'll start from scratch and build our first usable plugin. For this example, we'll write a simple "tuts formatting" function that allows a blog editor to more easily format articles. Screencast Step 1: Your First Plugin When creating a WordPress plugin, the first step is obviously to make sure that you have access to a WordPress installation. How to Write a WordPress Plugin: 12 Essential Guides and Resources. Want to learn how to extend WordPress?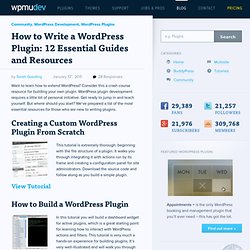 Consider this a crash course resource for building your own plugin. WordPress plugin development requires a little bit of personal initiative. Get ready to jump in and teach yourself. But where should you start? We've prepared a list of the most essential resources for those who are new to writing plugins. Adding Author Description/Biography in WordPress Themes. A reader had asked me how I had added the "Author Description Box" to this website (see below the article).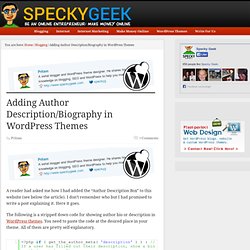 I don't remember who but I had promised to write a post explaining it. Here it goes. Migrating a WordPress/WPMU/BuddyPress Website | Interconnect IT - WordPress Consultants, Web Development and Web Design. Migrating a WordPress site can be something of a scary challenge, but we do it a lot, and we've become used to it. There are many good reasons to move a site – for example, you might set one up in a subfolder, and decide to move WP to the root. Or perhaps you've built a site on localhost and now need to put it on a live server. If you do it incorrectly, you stand to lose all your widget settings, some file links and so on. This wasn't a problem with 'classic WP' years ago, but these days there are many many paths stored away in the database, in various forms, and catching them all can be somewhat tricky.
Giving WordPress Its Own Directory. Giving WordPress Its Own Directory Languages: English • Français • 日本語 • Русский • (Add your language) Many people want WordPress to power their site's root (e.g. But they don't want all of the WordPress files cluttering up their root directory. WordPress allows you to install it into a subdirectory, but have your blog exist in the site root. As of Version 3.5, Multisite users may use all of the functionality listed below. If you are running a version of WordPress older than 3.5, please update before installing a Multisite WordPress install on a subdirectory. Adding Custom Widgets and Page Templates with WordPress | Design Shifts. Let say you have all of your default sidebar widgets (this is based on the HTML5 twenty ten theme): primary , secondary, first footer, second footer widget, third footer, fourth footer.
This is great and will do for most simple blog websites, but with more involved websites you won't always want to see the same sidebar on every page of your website. For example you may have a list of current activities on the frontpage and we may want to have page specifically for publication (for example). Of course if we add this into the Primary or Secondary widget areas the publications info will show up on every page. In this quick tutorial I will explain how to create new Widget areas as well as Custom Page Templates that will help separate and give us a lot more control of our content. WordPress Essentials: Interacting With The WordPress Database - Smashing WordPress. Advertisement While you already use many functions in WordPress to communicate with the database, there is an easy and safe way to do this directly, using the $wpdb class. Built on the great ezSQL class1 by Justin Vincent, $wpdb enables you to address queries to any table in your database, and it also helps you handle the returned data.
Because this functionality is built into WordPress, there is no need to open a separate database connection (in which case, you would be duplicating code), and there is no need to perform hacks such as modifying a result set after it has been queried. The $wpdb class modularizes and automates a lot of database-related tasks.
WordPress Essentials: How To Create A WordPress Plugin - Smashing WordPress. Advertisement WordPress plugins are PHP scripts that alter your website. The changes could be anything from the simplest tweak in the header to a more drastic makeover (such as changing how log-ins work, triggering emails to be sent, and much more). SEO knowledge. Wordpress Tutorial – Adding A Widget To Your Theme Files. Goodbye, headaches. Hello, menus! Wordcamp Phoenix - WordPress Plugins for Designers. How to Make a Badass WordPress Logo -- 3nhanced.com - Imagine, D.
---