Tech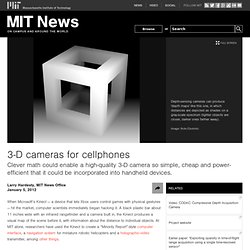 When Microsoft's Kinect — a device that lets Xbox users control games with physical gestures — hit the market, computer scientists immediately began hacking it. A black plastic bar about 11 inches wide with an infrared rangefinder and a camera built in, the Kinect produces a visual map of the scene before it, with information about the distance to individual objects. At MIT alone, researchers have used the Kinect to create a "Minority Report"-style computer interface , a navigation system for miniature robotic helicopters and a holographic-video transmitter, among other things .
3-D cameras for cellphones
Meet The Men Who Turned Amazon From Bookstore To Tech Giant | Share on LinkedIn
Lose your love handles; call your Mom more often; get that promotion – if you're like many of us, you're already thinking over some New Year's resolutions that will make you a better "you" in 2012. But how are the tech industries' thought leaders approaching the new year? We asked 12 of them for their resolutions, and will publish one a day starting on December 27 th and running until January 7 th . Check back here to watch them unfold and get some advice from some of the tech industry's most well-known names. Images courtesy of Flickr user eschipul (Mary Lou Jepsen, CC-BY-SA ), Mercedes McAndrew (Caterina Fake), Jefferson Graham (Dave Morin), Drew Altizer (Max Levchin, CC-BY ), Brian Solis (Elon Musk, CC-BY www.briansolis.com and bub.blicio.us ).
12 tech leaders' resolutions for 2012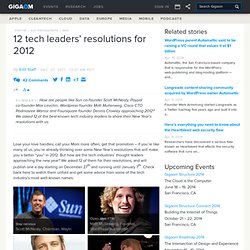 Abhilasha Sharma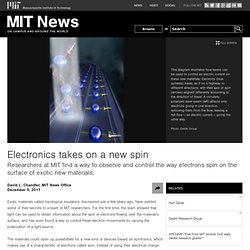 Electronics takes on a new spin
Exotic materials called topological insulators, discovered just a few years ago, have yielded some of their secrets to a team of MIT researchers. For the first time, the team showed that light can be used to obtain information about the spin of electrons flowing over the material's surface, and has even found a way to control these electron movements by varying the polarization of a light source. The materials could open up possibilities for a new kind of devices based on spintronics, which makes use of a characteristic of electrons called spin, instead of using their electrical charge the way electronic devices do.
PowerPoint Does Rocket Science--and Better Techniques for Technical Reports
Central Command Charts Sharp Movement of the Civil Conflict in Iraq Toward Chaos By MICHAEL R. GORDON, The New York Times Published: November 1, 2006
A "global mind" comprising humans and computers offers huge opportunities for informed decision-making, democratization of information, and world-wide problem solving, Google Executive Chairman Eric Schmidt said at the MIT Sloan School of Management Tuesday. Schmidt said the rapid accumulation of data will push people to find better ways to solve global problems, with new, faster technology to back them up. "The world will organize into things that people are good at and things that computers are good at," Schmidt said. "Think of them as aids.
Google's Schmidt: 'Global mind' offers new opportunities