Lessons in Faith & Spirituality
About Buddha. The Bahá'í Faith - The international website of the Bahá'ís of the world. Baha'i books from independent publisher Kalimát Press. Now is the time for the lovers of God to raise high the banners of unity, to intone, in the assemblages of the world, the verses of friendship and love and to demonstrate to all that the grace of God is one. — 'Abdu'l-Bahá Dr.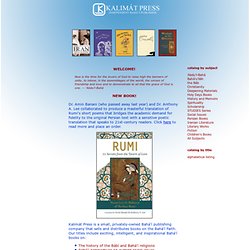 Amin Banani (who passed away last year) and Dr. Anthony A. Lee collaborated to produce a masterful translation of Rumi's short poems that bridges the academic demand for fidelity to the original Persian text with a sensitive poetic translation that speaks to 21st-century readers. Click here to read more and place an order. Spirituality &Practice: Film Feature: The Most Spiritually Literate... By Frederic and Mary Ann Brussat The 2009 film season ended with Avatar, a magical science fiction extravaganza that transports us to another world where an ordinary man is transformed by the ancestral teachings and ecological activities of an alien rainforest race.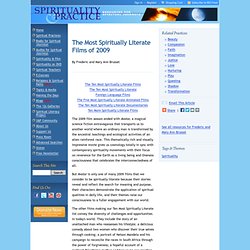 This thematically rich and visually impressive movie gives us cosmology totally in sync with contemporary spirituality movements with their focus on reverence for the Earth as a living being and Oneness consciousness that celebrates the interconnectedness of all. But Avatar is only one of many 2009 films that we consider to be spiritually literate because their stories reveal and reflect the search for meaning and purpose, their characters demonstrate the application of spiritual qualities in daily life, and their themes raise our consciousness to a fuller engagement with our world. The other films making our Ten Most Spiritually Literate list convey the diversity of challenges and opportunities in today's world. Remember The Reason For Living. Spirituality 101 | For Beginners | Spiritual Mind.
(Photo: h.koppdelaney) So what is Spiritual Growth, and how can it help your life?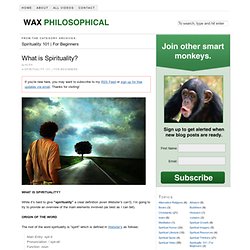 When you hear about Spiritual Growth, you might think it's all about the white-bearded guru sitting in a cave, or some hippie earth mother with braided hair. For others, "growth" will have a rigid interpretation assigned to it by a particular holy book or tradition. Pantheism, Naturalistic Pantheism & Pandeism. Discovering Spirituality Pantheism is the belief that everything is God.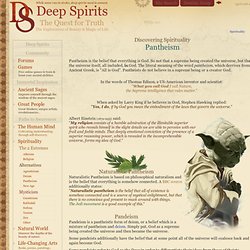 So not that a supreme being created the universe, but that the universe itself, all included, is God. The literal meaning of the word pantheism, which derrives from Ancient Greek, is "All is God". Pantheists do not believe in a supreme being or a creator God.
---