Crafting Videos
Hand stamped jewelry supplies, jewelry making tools. Wrought Iron jig set bending tools. Swanstrom Disc Cutter.mov. Heather Bayless.mov. BASIC BEADING LESSON 2: WIRE WRAPPING. Dichroic cabochons and fusing glass 1a - How to Fuse Glass - Dichroic Glass Man. How To Make Fused-Glass Pendants. How to Make Button & Flower Rings - Super easy! Publish at FaveCrafts.
About FaveCrafts.com Welcome to FaveCrafts.com where we have 1000's of free craft projects, home decor ideas and DIY tips.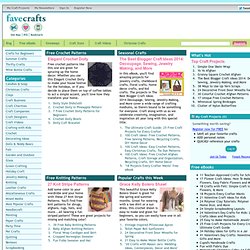 We add new projects and tips every day. Some of our readers' favorites include Christmas Crafts, Free Knitting Patterns, Free Crochet Patterns and Crafting with Kids. You will find step-by-step instructions, videos and patterns to make it quick and easy. RioGrande1944's Channel. Welcome to Rio Grande's Video Channel!
Tune in twenty-four seven for instructional videos that demonstrate innovative jewelry-making tools, teach you how to design and make jewelry, and show you new jewelry-making processes and techniques....all so that you can make your time at the bench more efficient, productive, and creative. Here, you'll find videos by innovators like Phil Poirier who demonstrates the creative power of hydraulic forming with Bonny Doon presses; tool designer Bill Fretz who teaches you how to form remarkable designs using Fretz hammers and stakes; and jeweler and tool designer Tim Sheriff who demonstrates the versatility of Swanstrom pliers and cutters. And if you're ready to learn soldering, watch videos from experts like Bruce Buehler and Ronda Coryell, and make sure to check out our Soldering Video Series that teaches you the nuts and bolts of torches, safety, set up, and more!
This is just a sample of what you'll find on Rio Grande's video channel. How to Make Beautiful Jewelry : Hammering A Piece Of Hand Made Jewelry: Part 1. Bluejay Bijoux. How to make a romper out of a T-Shirt : Secret Life of a Bio Nerd |... Upload Tumblr Subscription preferences Loading...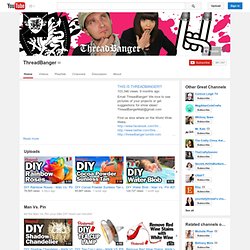 Working... ThreadBanger. Warrioress Rose Copper Ball Ring.m4v. Watercolor Painting Tutorial: Roses and Butterfly. Eva Martin.mov.
---