The World
6 Ways to Travel Endlessly
Traveling the way most people do it isn't enough. Saving all year long at a job for just two weeks a year won't let you see the world the way you want to see it. So you find someone to take care of your stuff while you travel the world. You're all set to see everything you ever wanted for as long as you want.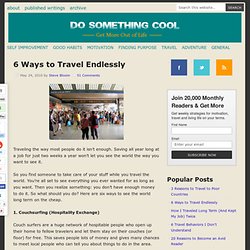 36 Jaw-Dropping Nature Photos - StumbleUpon
Peyto Lake (pea-toe) is a glacier-fed lake located in Banff National Park in the Canadian Rockies. The lake itself is easily accessed from the Icefields Parkway. It was named for Bill Peyto, an early trail guide and trapper in the Banff area.[1] The lake is formed in a valley of the Waputik Range, between Caldron Peak, Peyto Peak and Mount Jimmy Simpson, at an elevation of 1,860 m (6,100 ft).[citation needed]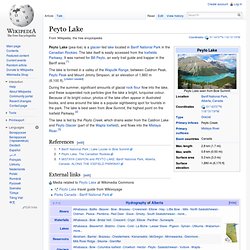 Peyto Lake
Moraine Lake, Banff National Park, Canada - StumbleUpon
Slideshow - Tripping on the Northern Lights
Can you believe your eyes? When it comes to these head-twisters, chances are you can't. Come around the globe with us on a tour of 'Did you just see what I just saw?'
BBC - Travel - The world's strangest optical illusions : Nature & Outdoors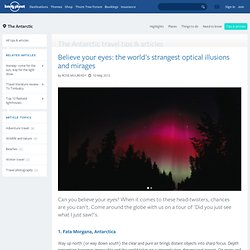 The Stunning Nature Photography Of Ivan Andreevich | Travel News, Tourist...
Isle Royale National Park - Large format photography - US National Parks Large Format stock photos, fine art prints by QTL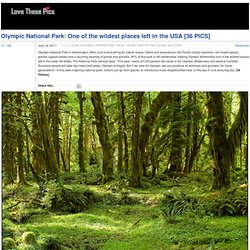 Maple Glade Trail. It's supposed to be a humbling experience to stand amidst such giants in the ancient forests of Olympic National Park. Photo #1 by rachel_thecat Maples in Olympic National Park's Hoh Rain Forest. 95% of this national park is designated as wilderness, a paradise for backpackers and hikers. Photo #5 by KevinM
Olympic National Park: One of the wildest places left in the USA [36 PICS] - StumbleUpon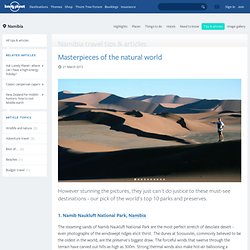 The world's 10 best parks and preserves
However stunning the pictures, they just can't do justice to these must-see destinations - our pick of the world's top 10 parks and preserves. 1. Namib Naukluft National Park, Namibia
Amazing Places To Experience Around The Globe (Part 1)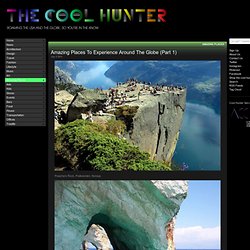 Preachers Rock, Preikestolen, Norway Blue Caves - Zakynthos Island, Greece Skaftafeli - Iceland Plitvice Lakes – Croatia
Most Fascinating Geological Wonders On Earth - StumbleUpon
Mar 08, 2011 / Category : Misc / 37 Comments This planet we live on offers us beauty beyond words. Every country has its own special region that takes your breath away with the magnificence of it. Here we can see some places that are a geological wonder that you may know about already, or maybe not? Antelope Canyon, Arizona, USA Antelope Canyon is one of the world's most beautiful canyons.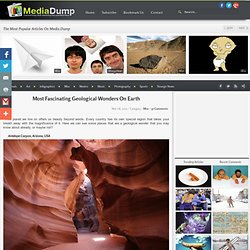 Wild Scenics Pictures - stock photos, fine art prints by QTL - StumbleUpon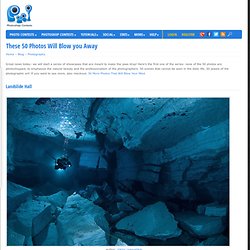 These 50 Photos Will Blow you Away - StumbleUpon
Great news today: we will start a series of showcases that are meant to make the jaws drop! Here's the first one of the series: none of the 50 photos are photoshopped, to emphasize the natural beauty and the professionalism of the photographers. 50 scenes that cannot be seen in the daily life, 50 jewels of the photographic art! If you want to see more, also checkout: 50 More Photos That Will Blow Your Mind
33 Photos That Will Inspire YOU to Jump Out of Your Chair and Travel the World!
Traveling is not just about visiting the famous sites; it's about interacting with people, tasting delicacies, and learning about daily life through cultural travel. 2.5 years of Migrationology has brought me to each and every one of these locations. I hope this will inspire YOU to jump out of your chair and begin traveling around this multifaceted world that is waiting to be explored! 1. Magic on the Coast of Tanzania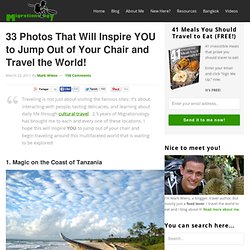 Yosemite, California: Photos & Trip Report - StumbleUpon
Fiume Flegetonte | Wildvisions.it
ss-cathedral-peak.jpg from lighttheexpedition.com - StumbleUpon
sunhalo_rosen_big.jpg from nasa.gov - StumbleUpon
- StumbleUpon
- StumbleUpon
18983.jpg (JPEG Image, 1024×768 pixels)
- StumbleUpon
20-Striking-Natural-Disasters.jpg (JPEG Image, 900×630 pixels)
- StumbleUpon
Were 99% certain this is the most beautiful footage of Earths auroras yet recorded - StumbleUpon
The Arctic Light
Most Amazing Time Lapse Video of Milky Way Ever Made. Seriously. | ShutterSalt
A stunning time-lapse of Iceland's nightless summer