The World
6 Ways to Travel Endlessly
Traveling the way most people do it isn't enough. Saving all year long at a job for just two weeks a year won't let you see the world the way you want to see it. So you find someone to take care of your stuff while you travel the world. You're all set to see everything you ever wanted for as long as you want.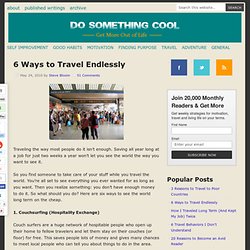 36 Jaw-Dropping Nature Photos - StumbleUpon
Peyto Lake (pea-toe) is a glacier -fed lake located in Banff National Park in the Canadian Rockies . The lake itself is easily accessed from the Icefields Parkway . It was named for Bill Peyto , an early trail guide and trapper in the Banff area. [ 1 ] The lake is formed in a valley of the Waputik Range , between Caldron Peak, Peyto Peak and Mount Jimmy Simpson, at an elevation of 1,860 m (6,100 ft). [ citation needed ] During the summer, significant amounts of glacial rock flour flow into the lake, and these suspended rock particles give the lake a bright, turquoise color.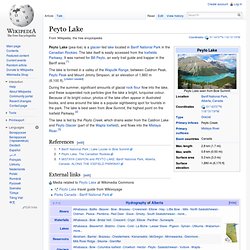 Peyto Lake
Moraine Lake, Banff National Park, Canada - StumbleUpon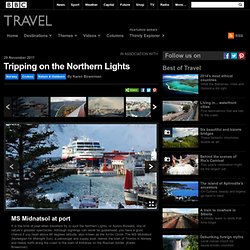 It is the time of year when travellers try to spot the Northern Lights, or Aurora Borealis, one of nature's greatest spectacles. Although sightings can never be guaranteed, you have a good chance if you head above 66 degrees latitude, also known as the Arctic Circle. The MS Midnatsol (Norwegian for Midnight Sun), a passenger and supply boat, leaves the town of Tromso in Norway and heads north along the coast to the town of Kirkenes on the Russian border. (Karen Bowerman)
Slideshow - Tripping on the Northern Lights
A natural phenomenon is a non-artificial event in the physical sense, and therefore not produced by humans, although it may affect humans.
10 Most Fascinating Natural Phenomena | Listphobia
May 10, 2012 5:49:43 AM Rose Mulready Lonely Planet Author Can you believe your eyes? When it comes to these head-twisters, chances are you can't.
BBC - Travel - The world's strangest optical illusions : Nature & Outdoors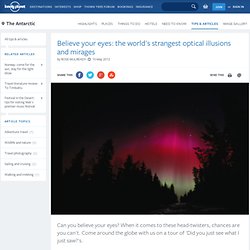 marina bay sands hotel singapore - StumbleUpon
first image a day at the pool images courtesy of marina bay sands marina bay sands complex consists of three hotel towers connected by the magnificent sands skypark. designboom's editors had the great opportunity to stay and test out the newly opened hotel. with over 2,500 rooms and suites, it is the biggest hotel in singapore. the sands skypark with pool is built at the height of 200 meters. its lush, landscaped gardens are home to 250 trees and 650 plants and offer a total of 12,400 square meters of space - big enough to fit three football fields. hotel guests have the exclusive use of a 150-meter infinity swimming pool, the world's largest outdoor pool at that height. sunset at the pool images courtesy of marina bay sands night view images courtesy of marina bay sands
Six Senses Resort in Laamu, Maldives | Swag So Fresh - StumbleUpon
The Stunning Nature Photography Of Ivan Andreevich | Travel News, Tourist...
Isle Royale National Park - Large format photography - US National Parks Large Format stock photos, fine art prints by QTL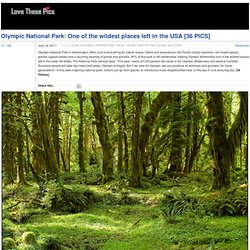 Maple Glade Trail. It's supposed to be a humbling experience to stand amidst such giants in the ancient forests of Olympic National Park. Photo #1 by rachel_thecat Maples in Olympic National Park's Hoh Rain Forest. 95% of this national park is designated as wilderness, a paradise for backpackers and hikers. Photo #5 by KevinM
Olympic National Park: One of the wildest places left in the USA [36 PICS] - StumbleUpon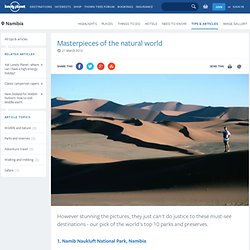 The world's 10 best parks and preserves - travel tips and articles - Lonely Planet
Mar 21, 2012 5:16:36 AM However stunning the pictures, they just can't do justice to these must-see destinations – our pick of the world's top 10 parks and preserves. 1.
The Cool Hunter - Amazing Places To Experience Around The Globe (Part 1)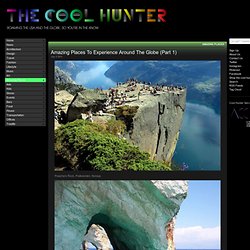 Preachers Rock, Preikestolen, Norway Blue Caves - Zakynthos Island, Greece Skaftafeli - Iceland Plitvice Lakes – Croatia
Most Fascinating Geological Wonders On Earth - StumbleUpon
This planet we live on offers us beauty beyond words. Every country has its own special region that takes your breath away with the magnificence of it. Here we can see some places that are a geological wonder that you may know about already, or maybe not? Antelope Canyon, Arizona, USA Antelope Canyon is one of the world's most beautiful canyons. Called Tse bighanilini in Navaho, which means "the place where water runs through rocks", it is found in the state of Arizona.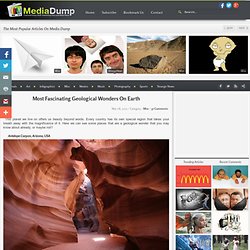 Wild Scenics Pictures - stock photos, fine art prints by QTL - StumbleUpon
Browse more than 30,000 images of landscapes, nature, national parks, ancient and modern cultures, by QT Luong (San Jose CA) - including black and white , large format and panoramic , available as fine art prints , for image licencing , and computer wallpaper .
These 50 Photos Will Blow you Away - StumbleUpon
Great news today: we will start a series of showcases that are meant to make the jaws drop! Here's the first one of the series: none of the 50 photos are photoshopped, to emphasize the natural beauty and the professionalism of the photographers. 50 scenes that cannot be seen in the daily life, 50 jewels of the photographic art!
33 Photos That Will Inspire YOU to Jump Out of Your Chair and Travel the World!
Traveling is not just about visiting the famous sites; it's about interacting with people, tasting delicacies, and learning about daily life through cultural travel . 2.5 years of Migrationology has brought me to each and every one of these locations. I hope this will inspire YOU to jump out of your chair and begin traveling around this multifaceted world that is waiting to be explored! 1. Magic on the Coast of Tanzania
Yosemite, California: Photos & Trip Report - StumbleUpon
Fiume Flegetonte | Wildvisions.it
ss-cathedral-peak.jpg from lighttheexpedition.com - StumbleUpon
sunhalo_rosen_big.jpg from nasa.gov - StumbleUpon
- StumbleUpon
- StumbleUpon
18983.jpg (JPEG Image, 1024×768 pixels)
- StumbleUpon
20-Striking-Natural-Disasters.jpg (JPEG Image, 900×630 pixels)
- StumbleUpon
Were 99% certain this is the most beautiful footage of Earths auroras yet recorded - StumbleUpon
The Arctic Light on Vimeo
Most Amazing Time Lapse Video of Milky Way Ever Made. Seriously. | ShutterSalt
A stunning time-lapse of Iceland's nightless summer