Campgrounds
5by - Your video concierge. Washington. Lewis River For more than 65 years, PacifiCorp has provided public recreation opportunities along the Lewis River.
Today, we operate 15 recreation facilities along the river, below Merwin Dam and along the shores of Yale, Merwin and Swift reservoirs. Combined, these recreation areas provide the public with 304 campsites in four campgrounds, 233 picnic sites and nine boat launch locations. Okanogan National Forest Campgrounds. The Okanogan National Forest (o-ka-na'-gun), of the Okanogan and Wenatchee National Forests, is located in northern Washington and is comprised of 1,499,870 acres.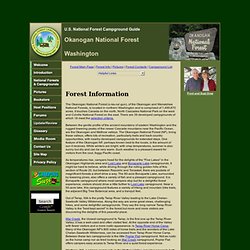 It touches Canada on the north, North Cascades National Park on the west and Colville National Forest on the east. There are 39 developed campgrounds of which 18 meet the selection criteria. Between the gentle profile of the ancient mountains of eastern Washington and the rugged towering peaks of the newer Cascade mountains near the Pacific Ocean, are the Okanogan and Methow valleys. Shannon Creek | Hoodoo.
Montana State Parks. Campground Directory and National Forest Campgrounds. Williams & Williams. LTVA And Bureau of Land Management (BLM) RV Camping. RV Camping - Bureau Of Land Management (BLM) The BLM - Bureau of Land Management has over 400 campgrounds, almost all suitable for RV camping.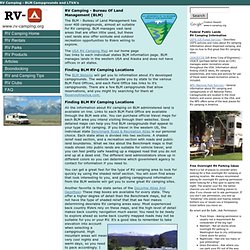 BLM manages vast land areas that are often little used, but these vast lands also offer solitude and outdoor recreation opportunities to RVers willing to explore. The USA RV Camping Map on our home page has links to each individual states BLM information page. BLM manages lands in the western USA and Alaska and does not have offices in all states. Shington State Parks and Recreation Commission - Park Information. Search for Places (Results) Start entering a US State name or code to search for everything within a state.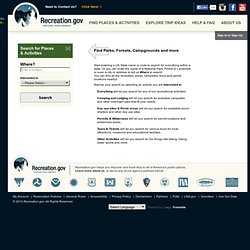 Or you can enter the name of a National Park, Forest or Landmark or even a city or address to tell us Where to search. You can find all the recreation areas, campsites, tours and permit locations nearby! Campgrounds & RV Parks | Camping Travel & RV Rallies. Wilderness.net. USDA Forest Service - SOPA - Washington. US Forest Service - Caring for the land and serving people. Thousand Trails - Getaways. What's your activity of choice?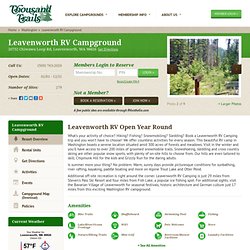 Hiking? Fishing?
---