Browser Compatability
Browser CSS hacks. I don't use CSS hacks anymore.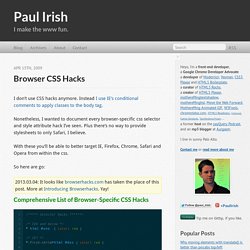 Instead I use IE's conditional comments to apply classes to the body tag. Nonetheless, I wanted to document every browser-specific css selector and style attribute hack I've seen. Plus there's no way to provide stylesheets to only Safari, I believe. With these you'll be able to better target IE, Firefox, Chrome, Safari and Opera from within the css. So here are go: App Library. A Guide on Layout Types in Web Design. One of the most variable aspects of web design is the way in which we approach width and height in terms of measurements and flexibility.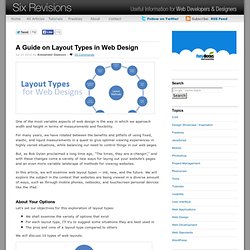 For many years, we have rotated between the benefits and pitfalls of using fixed, elastic, and liquid measurements in a quest to give optimal viewing experiences in highly varied situations, while balancing our need to control things in our web pages. But, as Bob Dylan proclaimed a long time ago, "The times, they are a-changin'," and with these changes come a variety of new ways for laying out your website's pages and an even more variable landscape of methods for viewing websites.
In this article, we will examine web layout types — old, new, and the future. We will explore the subject in the context that websites are being viewed in a diverse amount of ways, such as through mobile phones, netbooks, and touchscreen personal devices like the iPad. About Your Options. Fixed-position footers. This page describes a solution to the problem of creating a page with a fixed-position footer that is always displayed, while the rest of the content is free to scroll if required (depending upon the size of the browser window and the content).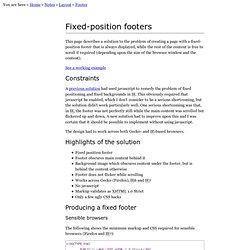 See a working example Constraints. Mobile Website Redirection | Mobile Browser Detection | Handset Detection. The viewport metatag (Mobile web part 1) | David B. Calhoun – Developer Blog. The skinny Use this: Introduction This series of posts is intended to introduce web developers to basic techniques for designing for the mobile web.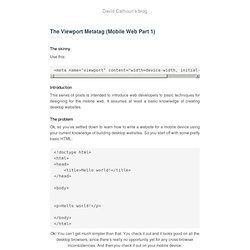 Chrome Frame - Google Code. Webinos Device Agnostic Platform. Home » About webinos webinos is an EU funded project aiming to deliver a platform for web applications across mobile, PC, home media (TV) and in-car devices.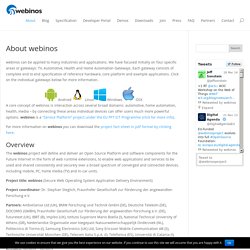 The webinos project has over twenty partners from across Europe spanning academic institutions, industry research firms, software firms, handset manufacturers and automotive manufacturers. webinos is a "Service Platform" project under the EU FP7 ICT Programme with a budget of 14 m€ including 10 m€ of EU funding. A foundation is planned to continue the work after the end of the project in August 2013, building upon an affiliates program launched in August 2011 that seeks to attract additional organizations to help with work on specifications and platform development. is a "Service Platform" project under the EU FP7 ICT Programme (click for more info) . ViewPorts. Page last changed today Related files: Last major update on 12 November 2013.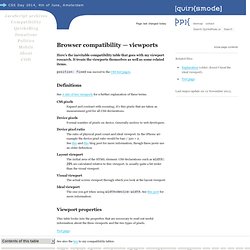 Resources | Handset Detection. All the handy info, in one spot Welcome to the resources pages.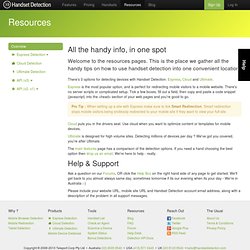 This is the place we gather all the handy tips on how to use handset detection into one convenient location. There's 3 options for detecting devices with Handset Detection. Express, Cloud and Ultimate.
---