Blogs
Scobleizer — Exploring the 2010 Web
The iPad Launch: Can Steve Jobs Do It Again?
unnamed pearl
Bespin
Custom Themes - Posterous for Developers
21st May 2010 My brain hurts, my throat is hoarse, and my unwanted collection of Media Temple-branded lanyards has grown by one, which means I must be back from another Future of Web Design conference, where I presented my personal thoughts about our future. In order to avoid doing any proper work, I hereby present the usual rough and ready overview of the event from my slightly exhausted perspective.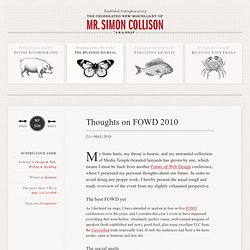 Simon Collison | Colly | Journal | Thoughts on FOWD 2010
Fantastic website design in Flintshire, North Wales from Stuff a