Blogs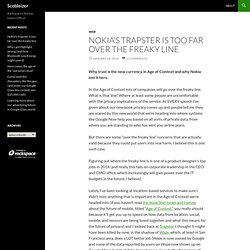 Why trust is the new currency in Age of Context and why Nokia lost it here. In the Age of Context lots of companies will go over the freaky line. What is that line? Where at least some people are uncomfortable with the privacy implications of the service.
Scobleizer — Exploring the 2010 Web
The iPad Launch: Can Steve Jobs Do It Again?
unnamed pearl
Bespin
Custom Themes - Posterous for Developers
21st May 2010 My brain hurts, my throat is hoarse, and my unwanted collection of Media Temple-branded lanyards has grown by one, which means I must be back from another Future of Web Design conference, where I presented my personal thoughts about our future. In order to avoid doing any proper work, I hereby present the usual rough and ready overview of the event from my slightly exhausted perspective.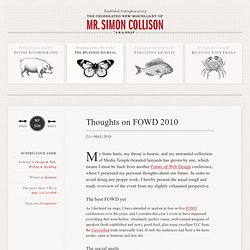 Simon Collison | Colly | Journal | Thoughts on FOWD 2010
For this, the fiftieth episode of Unfinished Business, I'm joined by regular guest Laura Kalbag. We talk about ethical statements and whether we, and the companies that people work for, should set out what they will and won't work on our websites. I would like to say an enormous thank-you to Anna Debenham for helping me get started with this podcast. To all our guests and sponsors for making the show possible and to you, our listeners for being lovely people. I'd like to wish you all a very happy Christmas holiday.
Fantastic website design in Flintshire, North Wales from Stuff a