The Bug
Kevin Martin is a London-based British musician, record producer and journalist, often known under his recording alias The Bug. He moved to London around 1990,[1] and he has been active for over a decade, in the genres of dub, jazzcore, industrial hip hop, dancehall, and dubstep. Martin first became interested in music as a teenager going to Handsome Dick's, a record store in Weymouth, England, UK. At the same time, he was introduced to Joy Division, the Sex Pistols, Captain Beefheart, the Birthday Party, and Throbbing Gristle.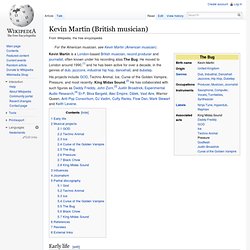 Kevin Martin (musician)
The Bug | Free Music, Tour Dates, Photos, Videos
The Bug is the main current music project of London-based producer Kevin Martin. Kevin has been a part of a number of groups including Techno Animal, The Sidewinder, God, Ice, Curse Of The Golden Vampire, Zonal, King Midas Sound, Black Chow, Cult Of The 13th Hour, Pressure and Experimental Audio Research through which he's experimented with fusing such diverse genres as grindcore, industrial, metal, hip-hop, dub, jazz and ambient. The Bug's music draws influence from dancehall, noise, grime, and hip hop. More subdued influences would include dubstep and the dubtronica and broken techno of Basic Channel and Pole. The Bug's first album Tapping The Conversation was released in 1997 on the seminal Wordsound label. The album was conceived as an alternative soundtrack to the 1974 Francis Ford Coppola film The Conversation.
The Bug – Free listening, videos, concerts, stats, & pictures at Last.fm