Skrillex
Skrillex | Official Website: Blog, Interactive, Chat and more. - skrillex.com. ||| Skrillex.org. Skrillex. After releasing the Gypsyhook EP in 2009, Moore was scheduled to record his debut studio album, Bells, with producer Noah Shain.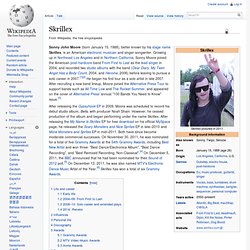 However, he ceased production of the album and began performing under the name Skrillex. After releasing the My Name Is Skrillex EP for free download on his official MySpace page, he released the Scary Monsters and Nice Sprites EP in late–2010 and More Monsters and Sprites EP in mid–2011. Both have since become moderate commercial successes. On November 30, 2011, he was nominated for a total of five Grammy Awards at the 54th Grammy Awards, including Best New Artist and won three: "Best Dance/Electronica Album", "Best Dance Recording", and "Best Remixed Recording, Non-Classical".[4] On December 5, 2011, the BBC announced that he had been nominated for their Sound of 2012 poll.[5] On December 12, 2011, he was also named MTV's Electronic Dance Music Artist of the Year.[6] Skrillex has won a total of six Grammy Awards.
Life and career. Skrillex – Free listening, videos, concerts, stats, & pictures at Last.fm. Skrillex (SKRILLEX) Skrillex. Skrillex's sounds. S K R I L L E X.
---