Majestic 12
Majestic 12. Sacred Texts Esoteric & Occult Mysteries Buy CD-ROM Buy Books about UFOs Index Previous Next Majestic 12 * * * * * * * * * * * * * * * * * * * * * * ÄÄÄÄÄÄÄÄÄÄÄ * * ÄÄÄÄÄÄÄÄÄÄÄ * L I T E R A R Y F R E E W A R E * * * * F O U N D A T I O N * ÄÄÄÄÄÄÄÄÄÄÄ * * ÄÄÄÄÄÄÄÄÄÄÄ * * * * * * * * * * * * * * * * * * * * * * -=ð P R O U D L Y í P R E S E N T S ð=- DISCLOSURE OF THIS INFORMATION IS AN ATTEMPT TO PROTECT AND PRESERVE THE CONSTITUTION OF THE UNITED STATES OF AMERICA.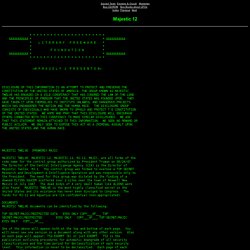 THE GROUP KNOWN AS MAJESTIC TWELVE HAS ENGAGED IN A VILE CONSPIRACY THAT HAS IGNORED THE LAW OF THE LAND AND THE PRINCIPLES OF FREEDOM THAT THE UNITED STATES WAS FOUNDED UPON. Official Manual Top Secret/Majic Eyes Only: Extraterrestrial Entities and Technology, Recovery and D. The "satellite" thing has bugged me too...except one can assume this book wasn't meant to be updated yearly, and with planned satellites by the US and Soviet Union, it wouldn't have been a stretch to include them...but yes, just one more tick on the "con" side....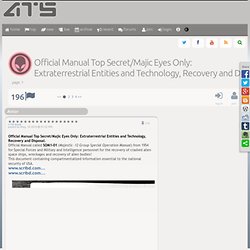 The FBI investigated the matter, and quickly formed doubts as to the documents' authenticity. FBI personnel contacted the U.S. Air Force, asking if MJ-12 had ever existed. The Air Force reported that no such committee had ever been authorized, and had never been formed. The FBI presently declares that "The investigation was closed after it was learned that the document was completely bogus.
" The UFO Spy Games Blog: TOP SECRET, MAJIC, EYES ONLY. Bob Collins, author of the controversial Exempt from Disclosure UFO book, sent me an email the other day where he noted that "we see the TOP SECRET/MAJIC on many of the classified MJ12 documents" and "all or most of the MAJIC programs would of fallen under SCI or, Sensitive Compartmented Information which is used primarily for Foreign Intelligence or in this case aliens.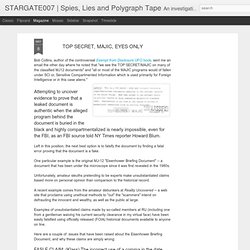 " Attempting to uncover evidence to prove that a leaked document is authentic when the alleged program behind the document is buried in the black and highly compartmentalized is nearly impossible, even for the FBI, as an FBI source told NY Times reporter Howard Blum. Left in this position, the next best option is to falsify the document by finding a fatal error proving that the document is a fake.
---