Egyptian Gods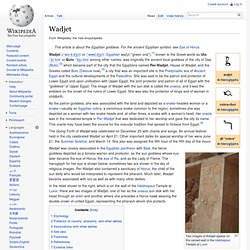 Wadjet ( pron.: / ˈ w ɑː d ˌ dʒ ɛ t / or / ˈ w æ d ˌ dʒ ɛ t / ; Egyptian wꜣḏyt , "green one"), [ 1 ] known to the Greek world as Uto ( pron.: / ˈ j uː t oʊ / ) or Buto ( pron.: / ˈ b j uː t oʊ / ) among other names, was originally the ancient local goddess of the city of Dep ( Buto ), [ 2 ] which became part of the city that the Egyptians named Per-Wadjet , House of Wadjet , and the Greeks called Buto ( Desouk now), [ 3 ] a city that was an important site in the Predynastic era of Ancient Egypt and the cultural developments of the Paleolithic . She was said to be the patron and protector of Lower Egypt and upon unification with Upper Egypt, the joint protector and patron of all of Egypt with the "goddess" of Upper Egypt. The image of Wadjet with the sun disk is called the uraeus , and it was the emblem on the crown of the rulers of Lower Egypt.
Set (mythology)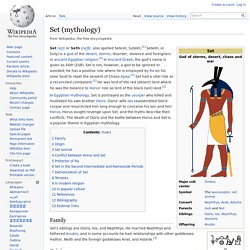 Set ( pron.: / s ɛ t / ) or Seth ( / s ɛ θ / ; also spelled Setesh, Sutekh, Setekh, or Suty) is a god of the desert , storms , and foreigners in ancient Egyptian religion . In later myths he is also the god of darkness and chaos . In Ancient Greek , the god's name is given as Sēth (Σήθ).
Seth animal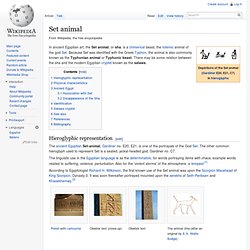 The Set animal, also called sha , resembles the canidae , or wild dogs, inhabiting the deserts of North Africa, particularly the region adjacent to the Nile Valley in Egypt . It is the totemic animal of the god Set , for which reason it is commonly known as the Typhonian animal , or Typhonic beast . There may be some relation between the inspiration for the sha and the mysterious wild dog known to modern Egyptians as the salawa .
Seth (Egyptian god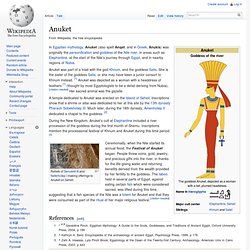 In Egyptian mythology , Anuket (also spelt Anqet , and in Greek , Anukis ) was originally the personification and goddess of the Nile river , in areas such as Elephantine , at the start of the Nile's journey through Egypt , and in nearby regions of Nubia . Anuket was part of a triad with the god Khnum , and the goddess Satis . It is possible that Anuket was considered the daughter of Khnum and Satis in this triad , or she may have been a junior consort to Khnum instead. [ 1 ] Anuket was depicted as a woman with a headdress of feathers [ 1 ] (thought by most Egyptologists to be a detail deriving from Nubia). [ citation needed ] Her sacred animal was the gazelle.
Anuket
Apep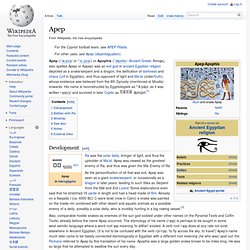 Apep ( pron.: / ˈ æ ˌ p ɛ p / or / ˈ ɑː ˌ p ɛ p / ) or Apophis ( pron.: / ˈ æ p ə f ɨ s / ; Ancient Greek : Άποφις ; also spelled Apepi or Aapep) was an evil god in ancient Egyptian religion , the deification of darkness and chaos ( ı͗zft in Egyptian), and thus opponent of light and Ma'at (order/ truth ), whose existence was believed from the 8th Dynasty (mentioned at Moalla) onwards. His name is reconstructed by Egyptologists as * ʻA'pāpī , as it was written ꜥꜣpp(y) and survived in later Coptic as Aphōph . [ edit ] Development
Dagger with the names Neb-Khepesh-Re Apepi. Apepi (also Ipepi ; Egyptian language ipp(i) ) or Apophis (Greek Άποφις ; regnal names Neb-khepesh-Re , A-qenen-Re and A-user-Re ) was a ruler of Lower Egypt during the fifteenth dynasty and the end of the Second Intermediate Period that was dominated by this foreign dynasty of rulers called the Hyksos . According to the Turin Canon of Kings, he ruled over the northern portion of Egypt for forty years, [ 1 ] and would have ruled during the early half of the 16th century (BCE) if he outlived his southern rival, Kamose , but not Ahmose I . [ 2 ] Although his reign only entailed northern Egypt, Apepi was dominant over most of Egypt during the early portion of his reign, and traded peacefully with the native, Theban Seventeenth dynasty to the south. [ 2 ]
Apepi (pharaoh)