Ancient Times
Get flash to fully experience Pearltrees
The Ages of Man are the stages of human existence on the Earth according to Greek mythology . Two classical authors ( Hesiod and Ovid ) in particular offer accounts of the successive ages of mankind, which tend to progress from an original, long-gone age in which humans enjoyed a nearly divine existence to the current age of the writer, in which humans are beset by innumerable pains and evils. In the two accounts that survive from ancient Greece and Rome, this degradation of the human condition over time is indicated symbolically with metals of successively decreasing value. [ citation needed ] [ edit ] Hesiod's Five Ages Lucas Cranach the Elder, The Silver Age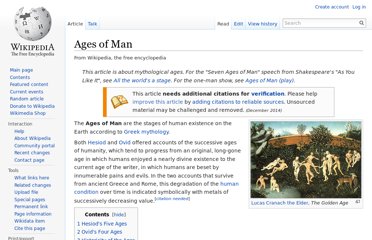 The three-age system in archaeology and physical anthropology is the periodization of human prehistory into three consecutive time periods , named for their respective tool-making technologies: Jomon pottery, Japanese Stone Age. [ edit ] Origin The concept of dividing pre-historical ages into systems based on metals extends far back in European history, but the present archaeological system of the three main ages: stone, bronze and iron, originates with the Danish archaeologist Christian Jürgensen Thomsen (1788–1865), who placed the system on a more scientific basis by typological and chronological studies, at first of tools and other artifacts present in the Museum of Northern Antiquities in Copenhagen (later the National Museum of Denmark ). He later used artifacts and the excavation reports published or sent to him by Danish archaeologists who were doing controlled excavations.
Diffusion of metallurgy in Europe and Asia Minor . The darkest areas are the oldest. The Bronze Age is a period characterized by the use of copper and its alloy bronze and proto-writing , and other features of urban civilization .
The Iron Age is the period generally occurring after the Bronze Age , marked by the prevalent use of iron. The early period of the age is characterized by the widespread use of iron or steel . The adoption of such material coincided with other changes in society, including differing agricultural practices, religious beliefs and artistic styles.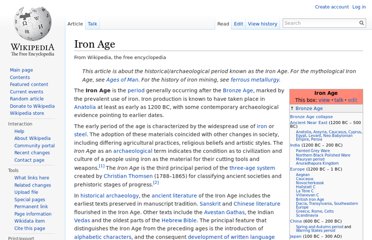 Modern Awash River , Ethiopia, descendant of the Palaeo-Awash, source of the sediments in which the oldest Stone Age tools have been found The Stone Age is a broad prehistoric period during which stone was widely used to make implements with a sharp edge, a point, or a percussion surface. The period lasted roughly 3.4 million years, and ended between 4500 BC and 2000 BC with the advent of metalworking . [ 1 ] Stone Age artifacts include tools used by humans and by their predecessor species in the genus Homo , as well as the earlier partly contemporaneous genera Australopithecus and Paranthropus . Bone tools were used during this period as well, but are more rarely preserved in the archaeological record.
[Ancient] Writing & Language