Anxiolytic
An anxiolytic (also antipanic or antianxiety agent)[1] is a drug or other intervention that inhibits anxiety. This effect is in contrast to anxiogenic agents, which increase anxiety.
Anxiolytic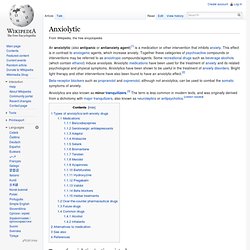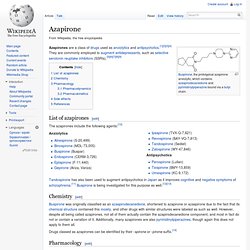 Azapirone
List of azapirones[edit]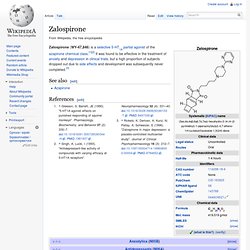 Zalospirone (WY-47,846) is a selective 5-HT1A partial agonist of the azapirone chemical class.[1][2] It was found to be effective in the treatment of anxiety and depression in clinical trials, but a high proportion of subjects dropped out due to side effects and development was subsequently never completed.[3]
Zalospirone
Tandospirone (Sediel), also known as metanopirone, is an anxiolytic and antidepressant used in China and Japan, where it is marketed by Dainippon Sumitomo Pharma. It is a member of the azapirone and piperazine chemical classes and is closely related to other agents like buspirone and gepirone.
Tandospirone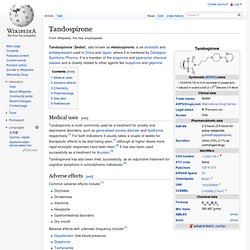 Gepirone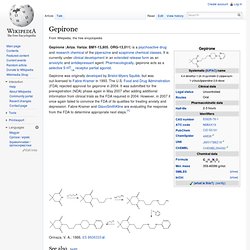 Gepirone (Ariza, Variza; BMY-13,805, ORG-13,011) is a psychoactive drug and research chemical of the piperazine and azapirone chemical classes.
Eptapirone and its relatives such as F-13,640 and F-15,599 were developed under the notion that high receptor-activating efficacy is required for the maximal therapeutic benefits of 5-HT1A receptor agonists to be realized, underlying the poor clinical effectiveness of currently marketed agents like buspirone and tandospirone which act as mere weak-moderate partial agonists.[1][2][3][4] Rodent studies[edit] In the forced swim test, eptapirone suppresses immobility more robustly than buspirone, ipsapirone, flesinoxan, paroxetine, and imipramine, indicating that it possesses powerful antidepressant effects which may be superior to those of currently available pharmaceuticals.[1] In this test, unlike the other agents screened, buspirone actually increases immobility time with a single administration, while repeated administration decreases it, likely as a result of buspirone's very poor intrinsic activity (~30%) in activating the 5-HT1A receptor.[1]
Eptapirone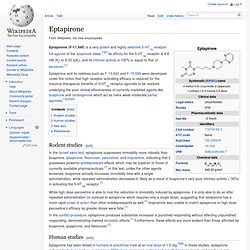 Buspirone
Buspirone (pronounced /ˈbjuːspɨroʊn/ BEW-spi-rohn), trade name Buspar (pronounced BYOO-spar), is an anxiolytic psychoactive drug of the azapirone chemical class is primarily used to treat generalized anxiety disorder (GAD). Unlike most drugs predominately used to treat anxiety, buspirone's pharmacology is not related to benzodiazepines or barbiturates, and so does not carry the risk of withdrawal symptoms those drug classes are known for when discontinued. Buspirone was first identified by a team at Mead Johnson[2] but wasn't patented until 1975[3]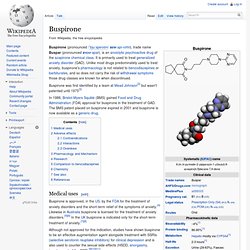 Alnespirone (S-20,499) is a selective 5-HT1A receptor full agonist of the azapirone chemical class.[1][2][3] It has antidepressant and anxiolytic effects.[1]
Alnespirone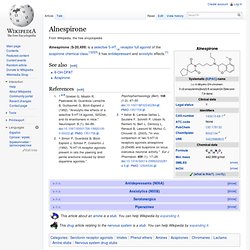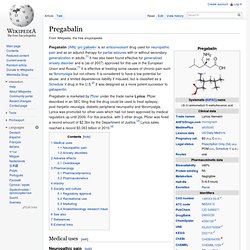 Lyrica is one of four drugs which a subsidiary of Pfizer in 2009 pleaded guilty to misbranding "with the intent to defraud or mislead". Pfizer agreed to pay $2.3 billion (£1.4 billion) in settlement, and entered a corporate integrity agreement.
Pregabalin
Medical uses[edit] Venlafaxine is used primarily for the treatment of depression, general anxiety disorder, social phobia, panic disorder and vasomotor symptoms.[7]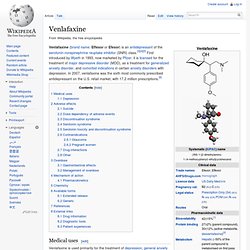 Venlafaxine
Hydroxyzine
Hydroxyzine (/haɪˈdrɒksɨziːn/; sold as Vistaril, Atarax) is a first-generation antihistamine of the diphenylmethane and piperazine class. It was first synthesized by Union Chimique Belge in 1956 and was marketed by Pfizer in the United States later the same year,[2] and is still in widespread use today. Due to its antagonistic effects on several receptor systems in the brain, hydroxyzine is claimed to have strong anxiolytic and mild antiobsessive as well as antipsychotic properties.[3] Today it is used primarily for the symptomatic relief of anxiety and tension associated with psychoneurosis and as an adjunct in organic disease states in which anxiety is manifested.
Meclozine
Meclizine (INN,[1] or meclozine) is an antihistamine considered to be an antiemetic.
Buclizine
Buclizine is an antihistamine and anticholinergic of the piperazine derivative family. It is considered to be an antiemetic, similar to meclizine.[1]
Cyclizine
Indications[edit]
A benzodiazepine /ˌbɛnzɵdaɪˈæzɨpiːn/ (sometimes colloquially "benzo"; often abbreviated "BZD") is a psychoactive drug whose core chemical structure is the fusion of a benzene ring and a diazepine ring. The first such drug, chlordiazepoxide (Librium), was discovered accidentally by Leo Sternbach in 1955, and made available in 1960 by Hoffmann–La Roche, which has also marketed the benzodiazepine diazepam (Valium) since 1963.[1] In general, benzodiazepines are safe and effective in the short term, although cognitive impairments and paradoxical effects such as aggression or behavioral disinhibition occasionally occur.
Benzodiazepine
Etizolam
Lorazepam
Diazepam
Clonazepam
Chlordiazepoxide
Alprazolam