RLPL eReader Sources
Kindle vs. Nook vs. iPad: Editors' note: This story was first published in July 2010, and has been extensively updated, most recently on December 17, 2012.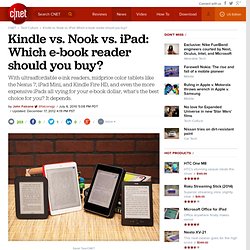 Shopping for an e-book reader or a small tablet? At first glance, the task seems daunting -- there are more choices than ever before. The good news is that the list of worthwhile choices is actually fairly short. The even better news? OverDrive Media Console App for iPad Review. I've been a fan of ebooks for many years, starting with Peanut Press books on my Handspring Visor Deluxe back around 1999.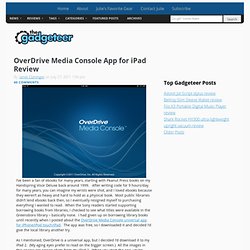 After writing code for 9 hours/day for many years, you can imagine my wrists were shot, and I loved ebooks because they weren't as heavy and hard to hold as a physical book. Most public libraries didn't lend ebooks back then, so I eventually resigned myself to purchasing everything I wanted to read. When the Sony readers started supporting borrowing books from libraries, I checked to see what titles were available in the Greensboro library – basically none. I had given up on borrowing library books until recently when I posted about the OverDrive Media Console universal app for iPhone/iPod touch/iPad.
BottleCap Magnet Tutorial. A bit of green :: Crafts :: Plastic Cup Lamp. Now that my university is closed for winter holidays, I finally have more free time to do all the crafty things I've been wanting to.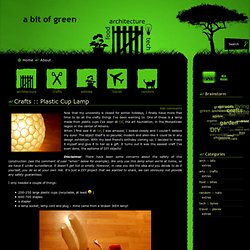 One of these is a lamp made from plastic cups I've seen at taf, the art foundation, in the Monastiraki region in the center of Athens. When I first saw it at taf, I was amazed; I looked closely and I couldn't believe my eyes! The object itself is so peculiar, modern and alien-like it could be in any design exhibition. With my best friend's birthday coming up, I decided to make it myself and give it to her as a gift. How do I use Overdrive? Let MORE help. Overview Please note that digital downloads from OverDrive's Digital Download Center can be enjoyed at home, at work, or when you travel, but are generally not for use on the computers in your library.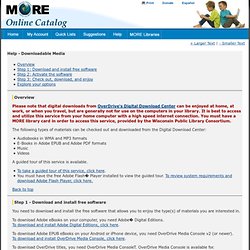 It is best to access and utilize this service from your home computer with a high speed internet connection. You must have a MORE library card in order to access this service, provided by the Wisconsin Public Library Consortium.
---