Fun
Momentum Adds Inspirational Quotes and To-Dos to Chrome's New Tab Page
Another idea. Not so original maybe. A 'curated tune' of the newtab day. Or is that going too far? What I mean is a new tune, new pic, new saying, to go with the first new tab you open each day.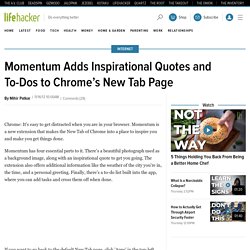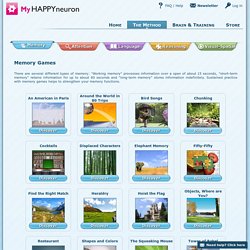 Memory Games There are several different types of memory: "Working memory" processes information over a span of about 15 seconds, "short-term memory" retains information for up to about 60 seconds and "long-term memory" stores information indefinitely. Sustained practice with memory games helps to strengthen your memory functions. Attention Games
Train with Brain Games | Brain Fitness Games
The smell of a flower - The memory of a walk in the park - The pain of stepping on a nail. These experiences are made possible by the 3 pounds of tissue in our heads...the BRAIN!! Neuroscience for Kids has been created for all students and teachers who would like to learn about the nervous system. Discover the exciting world of the brain, spinal cord, neurons and the senses. Use the experiments, activities and games to help you learn about the nervous system.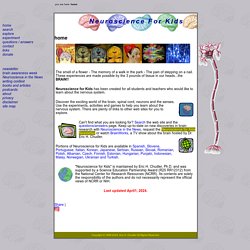 Captain Layne Wagner Fitness Captain Layne Wagner has been on the water for 45 years, fishing around the US as well as Costa Rica, Panama and Mexico. He has a 100 gross ton Master Captain licensed from the United States Coast Guard and is certified as a captain and guide by the International Game Fish Association. He is a member of the National Association of Charterboat Operators.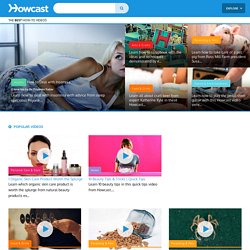 Welcome to my odd, little world of paper toys, holiday cards, valentines, sun boxes, baskets and bags, origami and ephemera... all for you to make. My goal is to help grownups and kids spend time together making things. It is my wish to amuse and delight.
Description 3D simulation of the Solar System and night sky in real time - the Sun, planets, dwarf planets, comets, stars and constellations. - Heliocentric view with real-time positions of planets and planetary orbits - Schematic and realistic sizes of the planets and distances between them - Movement of the planets in time to see how they move in relation to each other - Virtual Orrery - Planetary exploration with info texts and additional views such as structure - Dwarf planets (Pluto, Ceres, Haumea, Makemake. Eris) and their orbits - Comets (Siding Spring, Lovejoy 2013, Lovejoy 2011, Panstarrs, ISON, Halley) - positions and trajectories - Stars and constellation of the night sky as viewed from a given location - Changes in the night sky during night, month and year - Searching of the stars and constellation, ecliptic line, grid lines and more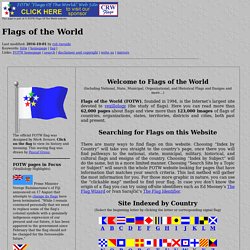 Flags of the World
Welcome to Flags of the World Flags of the World (FOTW), founded in 1994, is the Internet's largest site devoted to vexillology (the study of flags). Here you can read more than 54,000 pages about flags and view more than 104,000 images of flags of countries, organizations, states, territories, districts and cities, both past and present. Searching for Flags on this Website There are many ways to find flags on this website. Choosing "Index by Country" will take you straight to the country's page, once there you will find pathways to the national, state, municipal, military, historical, and cultural flags and ensigns of the country.
ZOOM
Platonic Realms Home Page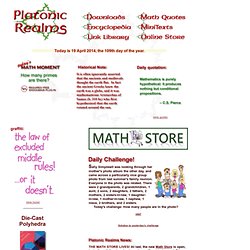 The Retired School Teachers Tennis Association is having a singles tournament. Each retired teacher plays another retired teacher, with the winner of each game going on to the next round. Unfortunately, the RSTTA has exactly 113 members, all of whom wish to compete.