Books
Next Generation. Main Content Welcome to the Next Generation of your library's digital collection We've made it faster and more intuitive to connect you to the books you love.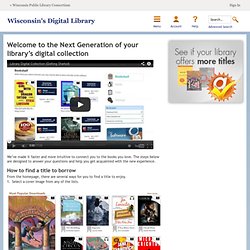 Encyclopedia of Fantasy (1997) Incoming Links Report. The entry Hill, Susan – 113 words, last updated on 1 June 1997 – is signed [JC].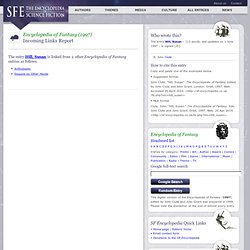 JC John Clute How to cite this entry. The Encyclopedia of Science Fiction. Underlined Book Quotes Become Clever Illustrations. Bookworm or not, you can't help but enjoy these black and white illustrations of literary quotes by Evan Robertson.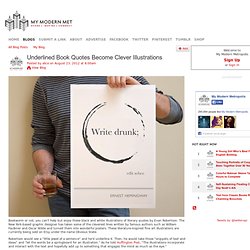 The New York-based graphic designer has taken some of the cleverest lines written by famous authors such as William Faulkner and Oscar Wilde and turned them into wonderful posters. These literature-inspired fine art illustrations are currently being sold on Etsy under the name Obvious State. Robertson would see a "little jewel of a sentence" and he'd underline it. Then, he would take those "snippets of text and ideas" and "let the words be a springboard for an illustration.
"
LibriVox. The Online Literature Library - StumbleUpon. The Staff Recommends: Home. Readers Advisory Bookmarks and Book Lists. Summer 2007 Semester Booker Prize Short Lists (2001-2006) - Emily Ford Macavity Award Nominees (2002-2006) - Debi Fortune Quill Award Winners, 2006 - Ashley Pike Academy Award Winners (1930-2004) - Brandon Rome Pulitzer Prize (1980-2007) - Morgan Sohl.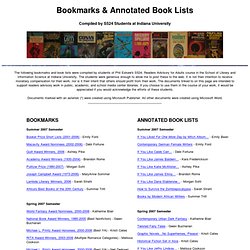 Reading Group Choices. Comic Book Legal Defense Fund |
Free & Bargain Kindle Books. 5 Reasons to Start a Writing Group. By Mark Nichol You know about writing groups — folks who meet at regular intervals to share excerpts from works in progress, exchange tips and information, and discuss conventions such as character, plot, narrative, and tone.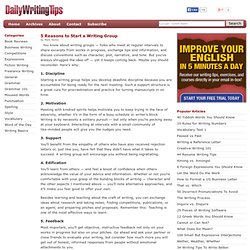 But you've always shrugged the idea off — yet it keeps coming back. Maybe you should reconsider. Here's why: Study: Library Users Drive Consumer Sales | Okie Reads. A new study sheds light on the impact library users have on consumer book sales.
Library Hotline reports that the first study conducted for the national Patron Profiles project tells us that: 50% of all library users go on to buy books by an author they were first introduced to at the library;20% of library users are "power patrons." They visit the library at least once a week, borrow all types of media, and are active buyers of books and other media, including e-books;Power patrons are more likely to vote at a higher rate than other patrons; and,Power patrons are "influencers" who spread the word about books, visit both online and brick and mortar bookstores, and are more likely to purchase specific books they've borrowed from the library. Why is this news important? Taylor Swift feat. The Civil Wars "Safe & Sound" (from The Hunger Games Soundtrack)
Short stories: Angela Carter and Roddy Doyle. Helen Simpson reads Angela Carter's short story The Kitchen Child, which "shows her stories can be sunnier, funnier and altogether more high-spirited than her more minatory, gothic tales might suggest.
" Listen to The Kitchen Child by Angela Carter Read The Plate, a short story by Roddy Doyle –I love you but I think I'm dying. This was what he said as he came in the back door. Then he turned around and walked back out. Literary Mixtape: Katniss Everdeen. If you've ever wondered what your favorite literary characters might be listening to while they save the world/contemplate existence/get into trouble, or hallucinated a soundtrack to go along with your favorite novels, well, us too.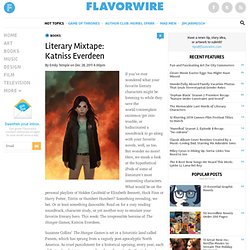 But wonder no more! Here, we sneak a look at the hypothetical iPods of some of literature's most interesting characters. Birthday Best Sellers. Finding Out-of-Print Books. UniBook. Would you like to publish your own book?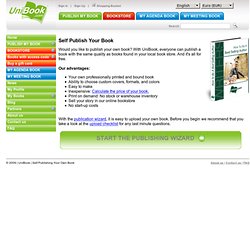 With UniBook, everyone can publish a book with the same quality as books found in your local book store. And it's all for free. Our advantages: Your own professionally printed and bound book Ability to choose custom covers, formats, and colors Easy to make Inexpensive: Calculate the price of your book. PageTurners Read "The Ghost at the Table" The Ghost at the Table by Suzanne Berne Rival sisters search for family truths over a Thanksgiving holiday.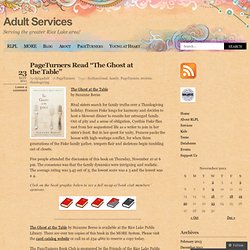 Frances Fiske longs for harmony and decides to host a blowout dinner to reunite her estranged family. Out of pity and a sense of obligation, Cynthia Fiske flies east from her sequestered life as a writer to join in her sister's feast. Q&A with Katherine Heigl and Janet Evanovich - USATODAY.com Video. All About Romance - For Romance Novel Lovers. Movies Based on Books: Buy Novels Being Turned Into Films - Adaptations.
---