Golden Dawn
IOT North America
Self Initiation and Golden Dawn Magic
Occult Library
A Portrait of the Master Therion by Leon Engers Kennedy Aleister Crowley (Oct. 12, 1875–Dec. 1, 1947) – however one judges him – was a fascinating man who lived an amazing life. He is best known as being an infamous occultist and the scribe of The Book of the Law, which introduced Thelema to the world. Crowley was an influential member in several occult organizations, including the Golden Dawn, the A∴A∴, and Ordo Templi Orientis. He was a prolific writer and poet, a world traveler, mountaineer, chess master, artist, yogi, social provocateur, drug addict and sexual libertine.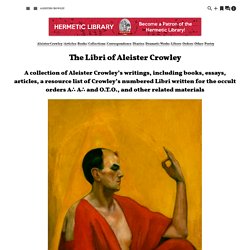 Servants of the Light School of Occult Science, a fully contacted Mystery School teaching throughout the world by correspondence.
Welcome to the home page of the Temple of Thelema and College of Thelema, a California Non-Profit Religious organization. Temple of Thelema is a true Outer Order of the Greater Mysteries, providing ceremonial initiation; structured training; and regular group work, all in conformity with the principles of The Book of the Law. An investment of time, effort, and commitment is expected from each member.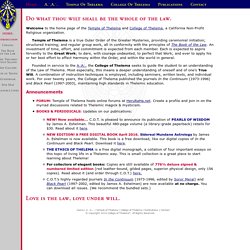 The Rose and Cross is for general use in magical working and is to be worn by the Zelator Adeptus Minor at all meetings of the Second Order at which he has the right to be present. The Description of the Rose Cross Lamen: Rays - White with black letters and symbols. Air - yellow ground purple Pentagram and symbols.
The Rose Cross Lamen
Kabbala 101
Tree of Life Frameset Index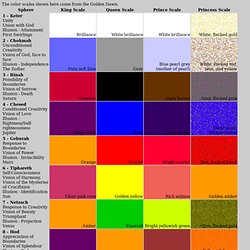 Color Scales in the Four Worlds
The color scales shown here come from the Golden Dawn. There are a huge variety of assignments of cards to paths on the Tree of Life (or Hebrew letters to paths), though the most commonly published scheme is that of the Golden Dawn (GD in the table below). I personally prefer the path assignment I first encountered in books by R J Stewart (but which was apparently developed by W.G. Gray).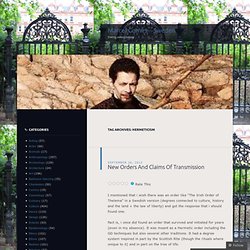 Hermeticism « marcelgomessweden
A little Pentagram Ritual i wrote to keep in tune with (and contemplate) certain energies. Start off as in Crowleys "Star Ruby": Facing East, in the centre, draw your breath deep deep deep , closing your mouth with your right forefinger presssed against your lower lip. Then, dashing down the hand with a great sweep back and out, exhaling hard, cry: ΑΠΟ ΠΑΝΤΟΣ ΚΑΚΟΔΑΙΜΟΝΟΣ (Apo Pantos Kakodaimones) Cabalistic Cross- With the same forefinger touch your forehead and say ΣΟΙ (Soi) You genitals, and say Ω ΦΑΛΛΕ (O Phalle) your right shoulder, and say ΙΣΧΥΡΟΣ (Ischuros) your left shoulder, and say ΕΥΧΑΡΙΣΤΟΣ(Evcharistos) then clasp your hands, locking the fingers, and cry ΙΑΩ (IAO)
Institute for Hermetic Studies
Abrahadabra: Some Thoughts on the WordAlchemy, It's Not For the Middle Ages AnymoreAntimony: Gateway to the Mineral WorldAssumption of the GodformThe Body of Light in the Western Esoteric TraditionCan You Imagine?The Chamber of ReflectionThe Coming Storm, Part One: Peak Oil and YouThe Coming Storm, Part Two: The Options ReviewedThe Coming Storm, Part Three: A Call for Hermetic Renewal – The New RenaissanceEsotericism and FreemasonryAn Exercise from the Vault of CRCThe Flashing SwordFollow Up to the Lucid Dreaming ProjectHermeticism, Democracy and ResponsibilityThe Hermetic QabalaThe History of Alchemy in AmericaHow Long Does it Take?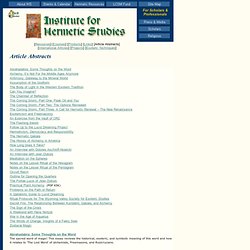 "Each of the Golden Dawn women chose a motto to define her personal search for meaning and her link to the Divine. The motto became her magical name, because in naming herself after the image of a central principle, each woman strove to make herself over in that image. Yeats said, "There is some one myth for every man, which if we but knew it, would make us understand all that he did and thought."
The Purpose Of The Magical Motto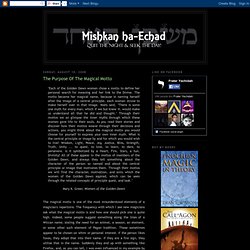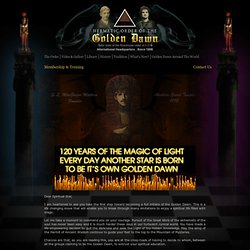 Hermetic Order of the Golden Dawn - Membership Information
Dear Spiritual Star, I am heartened to see you take the first step toward becoming a full initiate of the Golden Dawn. This is a life changing move that will enable you to break through many limitations to enjoy a spiritual life filled with magic. Let me take a moment to commend you on your courage.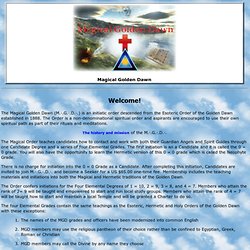 Magical Golden Dawn - a modern version that's easier to do and understand
Welcome! The Magical Golden Dawn (M.·.G.·.D.·.) is an initiatic order descended from the Esoteric Order of the Golden Dawn established in 1888. The Order is a non-denominational spiritual order and aspirants are encouraged to use their own spiritual path as part of their rituals and meditations. The history and mission of the M.·.G.·.D.·. The Magical Order teaches candidates how to contact and work with both their Guardian Angels and Spirit Guides through one Candidate Degree and a series of four Elemental Grades.
Esoteric Order of the Golden Dawn ® - Our Order
Welcome to our Order website and information center: We hope that our website portals will provide you with convenient access to all the rich and valuable information, which we believe will be of great interest to all seekers of Hidden Wisdom. Although, most of the material featured is derived from our ancient, mystical heritage; included, are authentic documents of great historic and mystical interest; we still maintain emphasis toward featuring current occult information of timely value, which is well grounded in the corpus of the mystical and spiritual tradition. The section that deals with our order is designed to provide you with insightful information on how the Golden Dawn is alive and growing in modern times.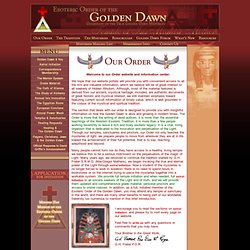 Golden Dawn Forum • Index page
It is currently Mon Jan 13, 2014 6:15 am View unanswered posts • View active topics Register or Sign In Please register or sign in to read or respond to posts on this forum. 0 Topics 0 Posts No posts