Homesteading
Start a 1-Acre, Self-Sufficient Homestead - Modern Homesteading. Everyone will have a different approach to keeping a self-sufficient homestead, and it's unlikely that any two 1-acre farms will follow the same plan or methods or agree completely on how to homestead.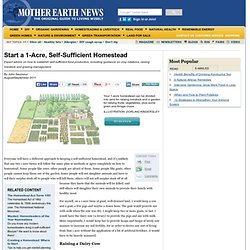 Some people like cows; other people are afraid of them. Some people like goats; other people cannot keep them out of the garden. Some people will not slaughter animals and have to sell their surplus stock off to people who will kill them; others will not sell surplus stock off at all because they know that the animals will be killed; and still others will slaughter their own animals to provide their family with healthy meat.
A Mad Scientist's 50 Tools for Sustainable Communities - Leah Messinger - Life. Marcin Jakubowski's plan to create low-cost, open-source machines that can make everything you can find in a Walmart The "Liberator" Compressed Earth Brick Press, designed by Open Source Ecology.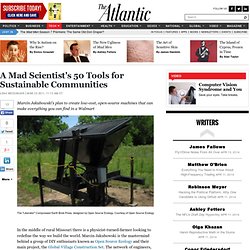 Courtesy of Open Source Ecology In the middle of rural Missouri there is a physicist-turned-farmer looking to redefine the way we build the world. Prepper.org. Index. "The Unsung Benefits of Homesteading" by Sheri Dixon. Oh sure, we all know the perks of growing our own food, supplying our own energy and being as self-sufficient as we can be, but what about the benefits of homesteading that AREN'T touted from the cover of the latest Men magazine?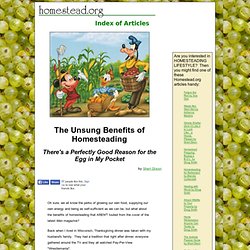 Back when I lived in Wisconsin, Thanksgiving dinner was taken with my husband's family. They had a tradition that right after dinner, everyone gathered around the TV and they all watched Pay-Per-View "Wrestlemania". As touching a scene as that was, with the little people all hunkered down in front for the best view, I just wasn't into it. And, DARNIT! Gardening 101: 5 Gardening Basics for Beginners. Everything You Need to Know About Composting With Worms. Following my recent blog post on the Do-It-Yourself Vermipod, I've been receiving a ton of questions from folks who built Vermipods and are looking for information on how to manage and maintain their new pets.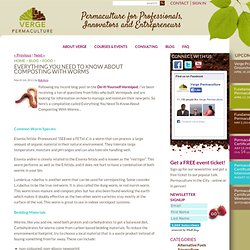 So here's a compilation called Everything You Need To Know About Composting With Worms… Common Worm Species.
---