Activism
Fourteen Defining Characteristics Of Fascism
UPDATED: The HB Gary Email That Should Concern Us All
As I wrote yesterday , there is a leaked email that has gotten surprisingly little attention around here. It's the one where Aaron Barr discusses his intention to post at Daily Kos - presumably something negative about Anonymous, the hacking group.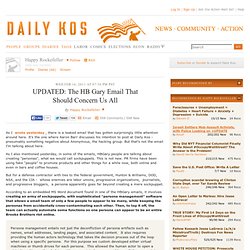 CorpWatch : Index
CounterPunch: Tells the Facts, Names the Names
Sherrod Brown isn't toning it down - David Catanese and Manu Raju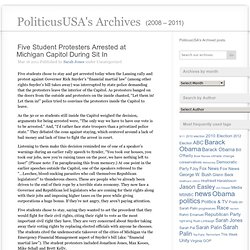 Five Student Protesters Arrested at Michigan Capitol During Sit In
Five students chose to stay and get arrested today when the Lansing rally and protest against Governor Rick Snyder's "financial martial law" (among other rights Snyder's bill takes away) was interrupted by state police demanding that the protesters leave the interior of the Capitol. As protesters banged on the doors from the outside and protesters on the inside chanted, "Let them in! Let them in!" police tried to convince the protesters inside the Capitol to leave.
PFIR - People For Internet Responsibility
The Consumerist
Chelsea (nee Bradley) Manning
Audio Activism
welcome | irrepressible.info
Why We Protest