Beauty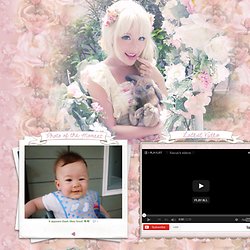 Advertorial Don't we all wish to have smooth, baby soft and clear skin? Except on our head, eyebrows and eyelashes, it is best if the rest of our body has no hair at all!!
Homemade "Clorox" Disinfecting Wipes
all photos: Kristin Ess + thebeautydepartment.com post designed by kristin ess Lots of emails this week asking for a tutorial on Lauren's temporary bright colors. Here I've replicated the process for you in 7 steps on an extension. While I never recommend bleaching out the ends of your hair at home, if you want to do the fun colors yourself, maybe get the tips bleached out by a pro + then play with the temporary colors on your own.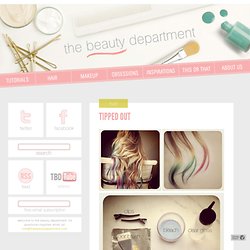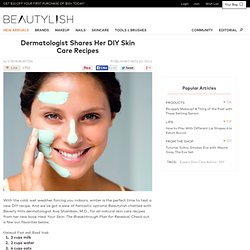 Dermatologist Shares Her DIY Skin Care Recipes
With the cold, wet weather forcing you indoors, winter is the perfect time to test a new DIY recipe. And we've got a slew of fantastic options! Beautylish chatted with Beverly Hills dermatologist Ava Shamban, M.D., for all-natural skin care recipes from her new book Heal Your Skin: The Breakthrough Plan for Renewal. Check out a few our favorites below. Oatmeal Foot and Hand Soak
Exfoliating Body Scrub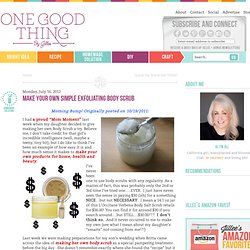 Morning Bump! Originally posted on 10/19/2011: I had a proud "Mom Moment" last week when my daughter decided to give making her own Body Scrub a try. Believe me, I don't take credit for that girl's incredible intelligence (well, maybe a teeny, tiny bit), but I do like to think I've been an example of how easy it is and how much sense it makes to make your own products for home, health and beauty. I've never been one to use body scrubs with any regularity. As a matter of fact, this was probably only the 2nd or 3rd time I've tried one…..EVER.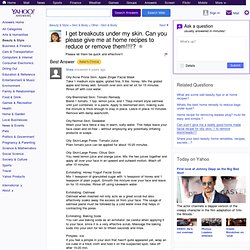 Oily/Acne Prone Skin: Apple Zinger Facial Mask Take 1 medium size apple, grated fine, 5 tbs. honey. Mix the grated apple and honey well. Smooth over skin and let sit for 15 minutes.
I get breakouts under my skin. Can you please give me at home recipes to reduce or remove them!!!!