2012
We Have Band
The Veer Union
Au Palais - Badcamp
Band of Skulls
The Big Pink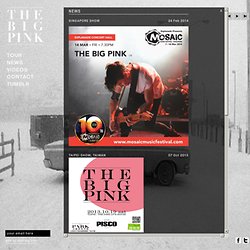 Check tour page for Asian festival details or CLICK HERE 'VELVET (perversion)' live at brixton check this! TAKE LIVE what do you think?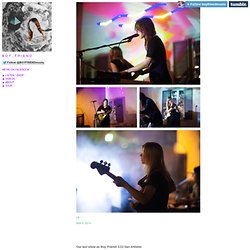 Boy Friend
You know you're better off right now You feel better than you know You see them facing up against you now Always headed up to what? They're feeding you with sorry eyes You're feeding off it - big surprise
Cloud Nothing - Myspace
Latest News Take The Cranberries Home With You For The Holidays! It may be the end of the 2012 Tour, but you can still re-live the experience with two amazing live recordings of the Cranberries in London and Caen just in time for the holidays! These exclusive live recordings were available instantly after the show and now you can get them for convenient home delivery! The perfect gift this holiday season, now at a reduced price – don't miss out and get your exclusive CD now!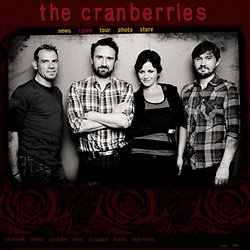 The Dandy Warhols
Dead Mellotron - Myspace
New Live Dates announced! Check our Live page for more details. Our new album "Half Life" is now available from our Bandcamp webstore Available as: Digital Download (With presentation PDF of Lyrics & Artwork) Digipack CD 12" Vinyl (180g DMM)
The Eden House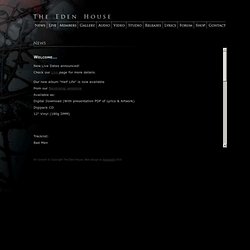 The Echelon Effect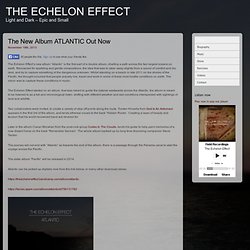 The Echelon Effect's new album "Atlantic" is the first part of a double album, charting a path across the two largest oceans on earth. Renowned for sparkling and gentle compositions, the idea that was to steer away slightly from a sound of comfort and dry land, and try to capture something of the dangerous unknown. Whilst standing on a beach in late 2011 on the shores of the Pacific, the thought occurred that people actually live, travel and work in some of these most hostile conditions on earth. The vision was to capture these conditions in music. The Echelon Effect started on an album, that was meant to guide the listener westwards across the Atlantic, the album is meant to be listened to as a full and chronological listen, shifting with different weather and sea conditions interspersed with sightings of land and wildlife.
The Exploding Boy
Fields Of The Nephilim
The Foreshadowing
Jesca Hoop
Human Tetris - Badcamp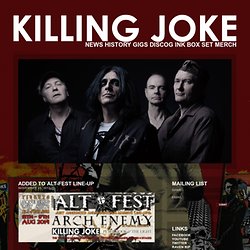 Killing Joke
Dear Friends and Gatherers, I am extremely disappointed to have to announce that I am unable to participate in the upcoming Australia/New Zealand Killing Joke tour. I've been suffering from an increasingly acute tendonitis, no doubt brought on by hours on concentrated scalpel use whilst restoring ancient sculptures. Nothing to do with my using the wrong end of heavy drum sticks, nor twisting my arm drilling granite, swinging a hammer and chisel, nor my years of blacksmithing! Anyway, right now I can barely hold a cup of tea.
LACUNA COIL Unveil 'BROKEN CROWN HALO'Album Cover And Track ListingNew Studio Album Out April 1 In North AmericaBand Set For REVOLVER HOTTEST CHICKS IN ROCK TOUR With SICK PUPPIES, EYES SET TO KILL & CILVERTour To Run February 20 - March 20 In North America FOR IMMEDIATE RELEASEJanuary 23, 2014LACUNA COIL are proud to unveil the album cover and track listing to 'BROKEN CROWN HALO', their new studio album due April 1, 2014 in North America (March 31 in Europe, Australia, New Zealand) on Century Media Records. The album is the band's seventh studio effort, and the highly-anticipated follow-up to 'Dark Adrenaline', which was released in January 2012 and saw the band tour with acts including Megadeth, Motorhead, Volbeat, Sevendust and Paradise Lost after debuting at No. 15 on the Billboard Top 200 album chart.
Lacuna Coil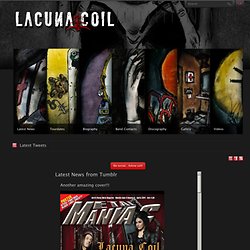 Lapko - Official
Leech
Lokeda
Lords of Acid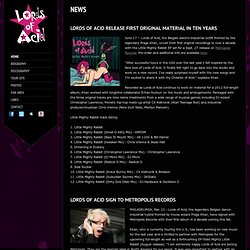 June 17 -- Lords of Acid, the Belgian electro-industrial outfit fronted by the legendary Praga Khan, unveil their first original recordings in over a decade with the Little Mighty Rabbit EP set for a Sept. 27 release on Metropolis Records. Pre-order and additional info are available here. "After successful tours in the USA over the last year I felt inspired by the fans love of Lords of Acid. It finally felt right to go back into the studio and work on a new record. I've really surprised myself with the new songs and I'm excited to share it with my Children of Acid." explains Khan. Recorded as Lords of Acid continue to work on material for a 2012 full-length album, Khan worked with longtime collaborator Erhan Kurkun on the music and arrangements.
METRIC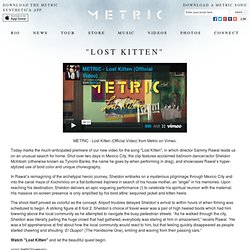 Today marks the much-anticipated premiere of our new video for the song "Lost Kitten", in which director Sammy Rawal leads us on an unusual search for home. Shot over two days in Mexico City, the clip features acclaimed ballroom dancer/actor Sheldon McIntosh (otherwise known as Tynomi Banks, the name he goes by when performing in drag), and showcases Rawal's hyper-stylized use of bold color and unique choreography. In Rawal's reimagining of the archetypal heroic journey, Sheldon embarks on a mysterious pilgrimage through Mexico City and into the canal maze of Xochimilco on a flat-bottomed trajinera in search of his house mother, an "angel" in his memories. Upon reaching his destination, Sheldon delivers an epic vogueing performance (!) to celebrate his spiritual reunion with the maternal. His massive on-screen presence is only amplified by his bold attire: sequined jacket and kitten heels.
Nada Surf
The Nada Surf Holiday Merch Sale starts Wednesday, November 27 with 20% off everything! MINOR ALPS / GET THERE is out! you can get in record stores! you can get it online! it really wants to be on your stereo. spread the word if you dig it!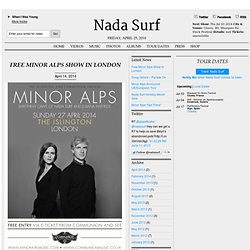 Now, Now
I don't agree with a lot of what John Waters stands for, indeed I would say in many ways we are each other's antitheses and if I'm to be completely honest, I have privately been outraged at how some of those Panti discussed on The Saturday Night... Click here to read Sinead's recent piece in the Irish ... I'd like to dedicate my argument this evening with love on God's behalf to all LGBTQ people the world over.. with particular mention of those who are loving parents. God prefers .. and shares.. the views of ...
Sinéad O'Connor
Pacific UV
PG-Lost - Myspace
PiL Official | Public Image Limited: Official Website
The Raveonettes
Saint Etienne
School of Seven Bells
Sennen
Patti Smith | Banga Track By Track
Solar Fake
Spector
Summer Twins
Technikult of Flesh
Thula Borah
Toy 29