Social issues
Is not available. Though sections have been redacted and more than two dozen interviews are narrated in dry officialese, the Federal Bureau of Investigation's 191-page file on Steve Jobs, released Thursday, reveals numerous lively details about the Apple co-founder's personal life and professional past, as recounted to FBI agents by his colleagues, neighbors and friends.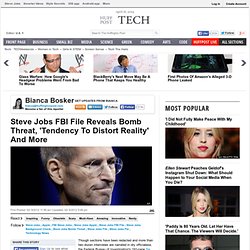 The document confirms much of what is already known about Jobs, including his drug use, spartan lifestyle and the intense managerial style that created friction between him and some of his colleagues. Yet it also sheds light on Jobs' relationship with the government, revealing that he was given top secret clearance between 1988 and 1990 and was being considered by President George H. W. Sick: Young, Undercover Cops Flirted With Students to Trick Them Into Selling Pot. Working at the Drug Policy Alliance for the last twelve years I have read and heard countless stories of people having their lives ruined because of our country's cruel war on drugs.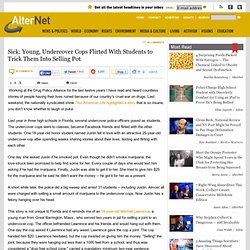 Last weekend, the nationally syndicated show This American Life highlighted a story that is so insane, you don't know whether to laugh or puke. Last year in three high schools in Florida, several undercover police officers posed as students. The undercover cops went to classes, became Facebook friends and flirted with the other students.
One 18-year-old honor student named Justin fell in love with an attractive 25-year-old undercover cop after spending weeks sharing stories about their lives, texting and flirting with each other. One day she asked Justin if he smoked pot. Creeping Fascism. The list contines to grow.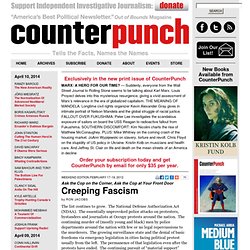 The National Defense Authorization Act (NDAA). The essentially unprovoked police attacks on protesters, bystanders and journalists at Occupy protests around the nation. The continuing murder of (mostly young and black) men by police departments around the nation with few or no legal repercussions to the murderers. Your Android Phone Is Secretly Recording Everything You Do (Updated) Stephen R. Shalom: Question and Answer on Gaza. By Stephen R.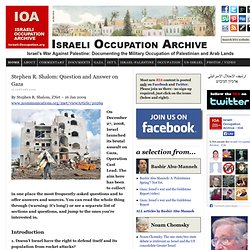 Shalom, ZNet – 16 Jan 2009www.zcommunications.org/znet/viewArticle/20269 On December 27, 2008, Israel launched its brutal assault on Gaza, Operation Cast Lead. The aim here has been to collect in one place the most frequently-asked questions and to offer answers and sources. About « DiagDissent. NYU Students for Justice in Palestine. 300 Economists Who Stand With #OccupyWallStreet. A World in Crisis - 1/4. Is not available. Brainwash & Mind Control. Brainwashing & mind control techniques The term "brainwashing" came into common language through the work of American journalist Edward Hunter who was an expert of Oriental issues; the very word being the direct translation of Chinese "hsi-nao".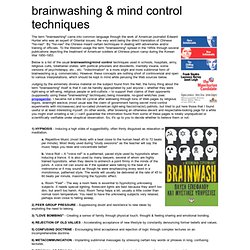 By "hsi-nao" the Chinese meant certain techniques in dealing with adversaries and/or training of officials. To the Western usage the term "brainwashing" spread in the 1950s through several publications depicting the treatment of American soldiers at Chinese prison camp during the Korean War 1950-1953.
---