Centre for public involvement
Recommended Practical Guides - Public participation library - people and participation - the public participation public engagement website
Facilitation Role - SWOT Analysis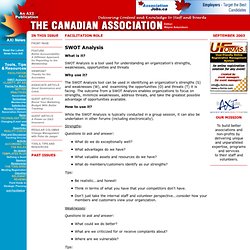 SWOT Analysis
00911_vcoss_partner_guide_2_WEB.pdf (application/pdf Object)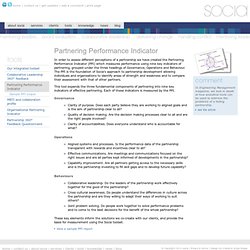 In order to assess different perceptions of a partnership we have created the Partnering Performance Indicator (PPI) which measures performance using nine key indicators of partnering, grouped under the three headings of Governance, Operations and Behaviour.
socia - tools Partnering Performance Indicator PPI
c64_HandbookFinal90608.pdf (application/pdf Object)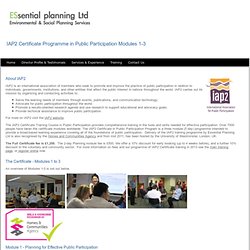 About IAP2
IAP2 Certificate Programme in Public Participation Modules 1-3
Software
Satisfying the public.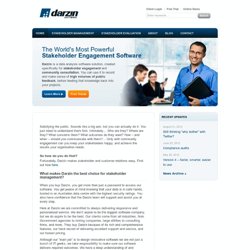 Our local IAP2/NCDD group is doing another lunch webinar this Friday, June 4 at 12 noon: About the Stakeholder Score WebinarEnvironmental sustainability efforts not only reduce company risks, but are emerging as a source of competitive advantage. Sustainability is increasingly central to the operations and ongoing reporting of companies, and increasingly corporate executives are seeking meaningful ways to involve relevant constituencies.Stakeholders engaged in a constructive manner can help companies identify and resolve a wide range of risks and new opportunities.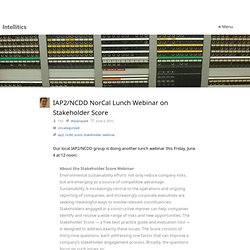 IAP2/NCDD NorCal Lunch Webinar on Stakeholder Score
Click here for Announcement As an international leader in public participation, IAP2 has developed the "IAP2 Core Values for Public Participation" for use in the development and implementation of public participation processes.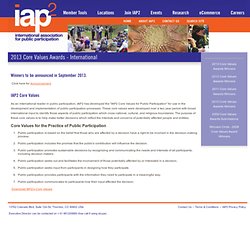 International Association for Public Participation
International Association for Public Participation
per_brief_tenkeys.pdf (application/pdf Object)
Nous vous remercions d'avoir visité le nouveau site Web du RCE. En raison de la nouvelle conception du site, il est possible que certains liens soient brisés. L'information que vous cherchez se trouve probablement ailleurs dans le site.
Networks of Centres of Excellence programs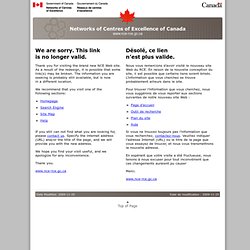 BL-NCE_RMAF-RBAF_RCE_TBS_eng.pdf (application/pdf Object)
NCE_RMAF-RBAF_RCE-2008_eng.pdf (application/pdf Object)
IPIEvaluationReport2009-EN.pdf (application/pdf Object)
CECREvaluation2010-EN.pdf (application/pdf Object)
NCE-NIEvaluationReport-EN.pdf (application/pdf Object)
Guide_CECR_2010_eng.pdf (application/pdf Object)
Policy Information Notice 99-09