Centre for public involvement
Recommended Practical Guides - Public participation library - people and participation - the public participation public engagement website. Facilitation Role - SWOT Analysis. SWOT Analysis What is it?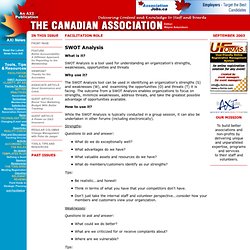 SWOT Analysis is a tool used for understanding an organization's strengths, weaknesses, opportunities and threats Why use it? 00911_vcoss_partner_guide_2_WEB.pdf (application/pdf Object) Socia - tools Partnering Performance Indicator PPI. In order to assess different perceptions of a partnership we have created the Partnering Performance Indicator (PPI) which measures performance using nine key indicators of partnering, grouped under the three headings of Governance, Operations and Behaviour.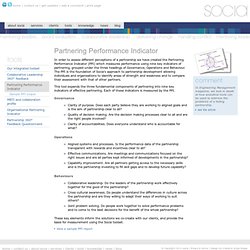 The PPI is the foundation of Socia's approach to partnership development allowing individuals and organisations to identify areas of strength and weakness and to compare their assessment with that of other partners. This tool expands the three fundamental components of partnering into nine key indicators of effective partnering. Each of these indicators is measured by the PPI. Governance. c64_HandbookFinal90608.pdf (application/pdf Object) IAP2 Certificate Programme in Public Participation Modules 1-3. About IAP2 IAP2 is an international association of members who seek to promote and improve the practice of public participation in relation to individuals, governments, institutions, and other entities that affect the public interest in nations throughout the world.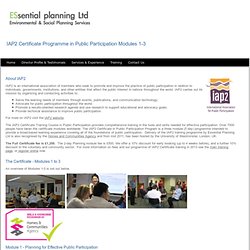 IAP2 carries out its mission by organizing and conducting activities to: Serve the learning needs of members through events, publications, and communication technology; Advocate for public participation throughout the world; Promote a results-oriented research agenda and use research to support educational and advocacy goals; Provide technical assistance to improve public participation.
The IAP2 Certificate Training Course in Public Participation provides comprehensive training in the tools and skills needed for effective participation. Over 7000 people have taken the certificate modules worldwide. Software. Satisfying the public.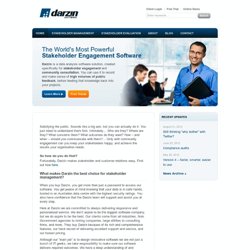 Sounds like a big ask, but you can actually do it. You just need to understand them first. Intimately… Who are they? Where are they? IAP2/NCDD NorCal Lunch Webinar on Stakeholder Score. Our local IAP2/NCDD group is doing another lunch webinar this Friday, June 4 at 12 noon: About the Stakeholder Score WebinarEnvironmental sustainability efforts not only reduce company risks, but are emerging as a source of competitive advantage.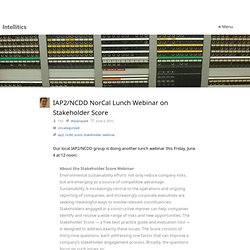 Sustainability is increasingly central to the operations and ongoing reporting of companies, and increasingly corporate executives are seeking meaningful ways to involve relevant constituencies.Stakeholders engaged in a constructive manner can help companies identify and resolve a wide range of risks and new opportunities. International Association for Public Participation. Click here for Announcement As an international leader in public participation, IAP2 has developed the "IAP2 Core Values for Public Participation" for use in the development and implementation of public participation processes.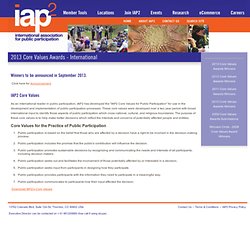 These core values were developed over a two year period with broad international input to identify those aspects of public participation which cross national, cultural, and religious boundaries. The purpose of these core values is to help make better decisions which reflect the interests and concerns of potentially affected people and entities. Core Values for the Practice of Public Participation Public participation is based on the belief that those who are affected by a decision have a right to be involved in the decision-making process. International Association for Public Participation. Per_brief_tenkeys.pdf (application/pdf Object) Networks of Centres of Excellence programs. Nous vous remercions d'avoir visité le nouveau site Web du RCE.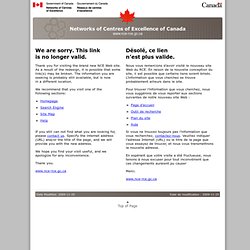 En raison de la nouvelle conception du site, il est possible que certains liens soient brisés. L'information que vous cherchez se trouve probablement ailleurs dans le site. BL-NCE_RMAF-RBAF_RCE_TBS_eng.pdf (application/pdf Object) NCE_RMAF-RBAF_RCE-2008_eng.pdf (application/pdf Object) IPIEvaluationReport2009-EN.pdf (application/pdf Object) CECREvaluation2010-EN.pdf (application/pdf Object) NCE-NIEvaluationReport-EN.pdf (application/pdf Object) Guide_CECR_2010_eng.pdf (application/pdf Object) Policy Information Notice 99-09.
---