Twitter Army
Tweet Extractor Don Hollies
GoTwitr | Grow Twitter with GoTwitr
The Ultimate Twitter Marketing Tool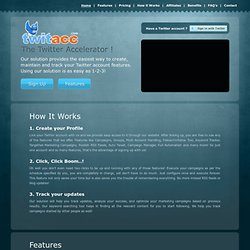 1. Create your Profile
The Twitter Traffic Bot - World's most sophisticated Twitter bot!
The Enterprise Social Network
Twitter can be used in various, almost countless ways.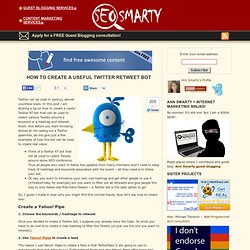 How to Create a Useful Twitter Retweet Bot
Streaming Traffic Generation
How to Add an RSS Feed : Help Desk
Twitter multi account manager & brand monitor | Splitweet
How to Use One Email Address with Multiple Twitter Accounts
What is your question?
Seesmic Desktop is (not surprisingly) a desktop Twitter client that allows users to manage multiple Twitter accounts in a single UI.
all things twittered
Get Twitter Splitter
Business Dashboards | Executive Dashboards | Web Dashboard Software - Zoho Reports
io | Relationship Management | Contact Management
shorten, share and track your links
Micro-Comissions Strategy
Twitter Whispers - New Twitter Traffic Formula
TWITTER TRAFFIC FORMULA
Tweet Traffic Rush - Create an Avalanche of FREE Targeted Traffic to Your Website Using the Power of Twitter...
Underground Explosive Twitter Traffic - How to Make a Free @ Reply Bot
High Speed Highly Anonymous Private Proxies
TweetAttacksServers.com | Best Cloud Dedicated Servers to use with TweetAttacks Software! Cheap Deals! Turbocharge Twitter promotion with TweetAttacksServers.com!