Gadgets
Steampunk Professor Xavier Wheelchair. One of the most easily recognizable icons in western comic book culture is Professor Charles Xavier, a bald man in a wheelchair.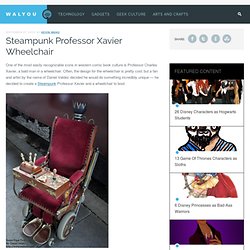 Often, the design for the wheelchair is pretty cool; but a fan and artist by the name of Daniel Valdez decided he would do something incredibly unique — he decided to create a Steampunk Professor Xavier and a wheelchair to boot. The wheelchair from Smeeon is actually an Eastlake Victorian Rocker which has been heavily modded to give it the authentic steampunk look and feel. 24 Cool Steampunk Weapons from Another Era. 24 Cool Steampunk Weapons from Another Era Steampunk may bring to your mind images of brass, copper and retro gadgets that seem to be inspired by the Industrial age, when in fact, the term Steampunk in its purest form refers to the sub-genre of fiction writing or science fiction which deals with anachronistic technology from the Victorian Age.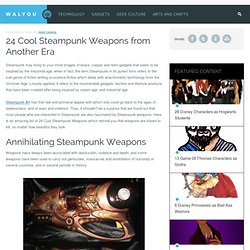 Loosely applied, it refers to the innumerable gadgets, fashion and lifestyle products that have been created after being inspired by steam age, and industrial age. 16 Anti Theft Gadgets and Designs to Deter Thieves. 16 Anti-Theft Gadgets and Designs to Deter Thieves We all own many different cool gadgets and items that are important to us either for the utility they provide or perhaps because of an intimate or personal reason.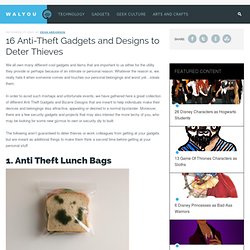 Whatever the reason is, we really hate it when someone comes and touches our personal belongings and worst yet…steals them. In order to avoid such mishaps and unfortunate events, we have gathered here a great collection of different Anti Theft Gadgets and Bizarre Designs that are meant to help individuals make their devices and belongings less attractive, appealing or desired to a normal bystander.
Moreover, there are a few security gadgets and projects that may also interest the more techy of you, who may be looking for some new gizmos to own or security diy to built. 1.25kJ Coilgun - Hacked Gadgets - DIY Tech Blog. Jason sent in his latest creation, it's a 1.25kJ Coilgun.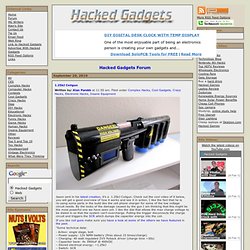 Check out the cool video of it below, you will get a good overview of how it works and see it in action. I like the fact that he is re-using some parts in the build like the cell phone charger for some of the low voltage circuit needs. By the looks of the damage caused by the gun I am thinking that this might be the most powerful one we have seen yet. I like the dial that allows the max charge voltage to be dialed in so that the system can't overcharge. Pulling the trigger disconnects the charge circuit and triggers the SCR which dumps the capacitor energy into the coil. Top 5 Coil Guns - Hacked Gadgets - DIY Tech Blog. 3.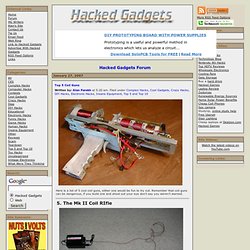 EM-15 coil gun The EM-15 is a gun that the military could get lots of use from if it ever goes into production. Clear Vision Mk2- All Set to Give a "Mind Blown" Vision. For all the technological lovers, am sure you must have come across many geeky concepts and designs, but the creation of Clear Vision Mk2 has definitely been made with super-techno skills, as you can see in the final product.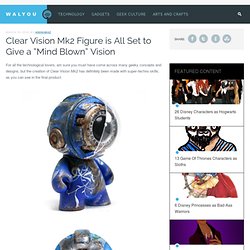 Cris rose, a London based artist and designer has made amazing beautiful concepts in the past, but he came with this one, its definitely going to surpass the other gadgets. This gadget, given the name "Mind Blown", is Clear Vision Mk2. And as the name suggests, this device was made with the concept of prototype's field test that is now considered as the most radiated light source with macro lens in the optical field. Steampunk concept will blow your mind. Home » Artwork Steampunk is a sub-genre of science fiction, alternate history, and speculative fiction that came into prominence during the 1980s and early 1990s.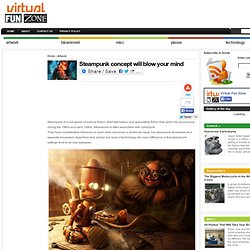 Steampunk is often associated with cyberpunk. They have considerable influence on each other and share a similar fan base, but steampunk developed as a separate movement. 15 Strangest Contact Lenses. If you want something out of the ordinary when it comes to contact lenses then you might want to have a look at these special effect lenses, also known as crazy contacts or Halloween contact lenses, right from Hollywood plots.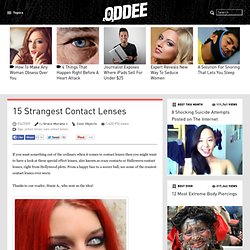 From a happy face to a soccer ball, see some of the craziest contact lenses ever worn. Thanks to our reader, Stacie A., who sent us the idea! Scary Masks - My Fun Space. The creator of these masks sell them on Ebay.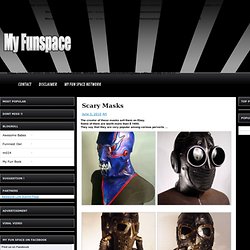 Some of them are worth more than $ 1000.They say that they are very popular among various perverts … A mask is an article normally worn on the face, typically for protection, concealment, performance, or amusement. Masks have been used since antiquity for both ceremonial and practical purposes. They are usually worn on the face, although they may also be positioned for effect elsewhere on the wearer's body, so in parts of Australia giant totem masks cover the body, whilst Inuit women use finger masks during storytelling and dancing.
Throughout the world masks are used for their expressive power as a feature of masked performance – both ritually and in various theatre traditions. Top 20 Most Creatively Designed PC Case Mods - Gizmo Watch. Getting beyond the tearing trend and into another stride of exclusivity is this PC case built from Legos.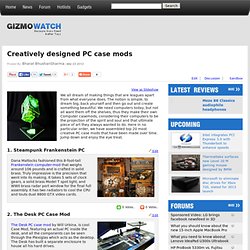 The system, with all exclusive Lego shell, is inclusive of - VIA Epia PD Mobo 1Ghz, Nvidia 6200 PCI Graphics, Laptop 80 Gig 7200Rpm Hdd, Laptop DVD, 1 gig Geil DDR memory, 200 watt PS. The Lego PC case mod also has an AC8 exhaust fan with cooling intakes on sides and wheels for mobility that surely takes this collection to an all new surpassing high. 13 Coolest Steampunk Phones To Crank A Metallic Accent - Gizmo Watch. How to make the simplest electric motor. You have one drywall screw, one 1.5 V alkaline cell, six inches of plain copper wire, one small neodymium disk magnet, and no other tools or supplies. You have 30 seconds to make an electric motor running in excess of ten thousand RPM.
Can you do it? Surprisingly enough, you can. Let's take a step back. The most common type of electric motor is the brushed dc electric motor. EMPIRE17.swf (application/x-shockwave-flash Object)
---