Start up
FailCon - L'échec se met au service du succès (Compte Rendu)
Assurer la longévité de son application mobile
10 Tips for Better Startup Marketing
Scott Gerber is a serial entrepreneur, internationally syndicated columnist and TV host, and the founder of the Young Entrepreneur Council. He is also an active angel investor and author of the book Never Get a "Real" Job. Many aspiring entrepreneurs foolishly believe that all they need to do is sign up for a Twitter account, blog about special offers, and hand out a flashy looking brochure, whereupon leads will come pouring in.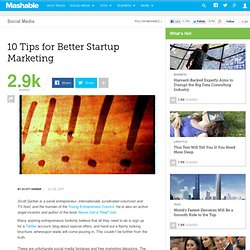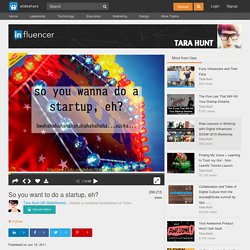 284,941 views Featured in : Business & Mgmt, Technology See the video of this here: http://youtu.be/spy6NmD6iPI ... See the video of this here: http://youtu.be/spy6NmD6iPI
Rien de tel que les listes pour ne pas oublier les tâches diverses et variées à accomplir… La bonne vieille méthode du post-it ou de la feuille volante a fait ses preuves, mais bon, reste à savoir où on a pu la laisser traîner. De nombreuses solutions de gestions de tâches à faire ou de listes ont vu le jour sur mobile ou en ligne, des plus épurées aux plus sophistiquées, des gratuites aux plus onéreuses. Pas toujours facile de trouver l'application qui convient le mieux à vos besoins et à votre équipement !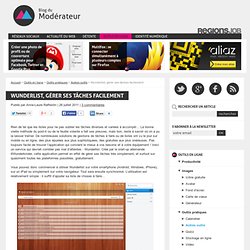 Wunderlist, gérer ses tâches facilement
Putting the likes of the super-funded aside (Color, anyone?), most early-stage startups operate on tight budgets and spend their dollars sparingly. A bevy of web services have made start-up costs all the more affordable, but now there's the conundrum of nearly too much choice. The folks at BestVendor surveyed 550 startup staffers — most in marketing and executive administration positions — on their favorite tools for email, accounting, web analytics, CRM, productivity, design, storage, payment processing, operations and so forth. Their answers, in aggregate, speak to the growing trend in startups moving toward predominately cloud-based operations.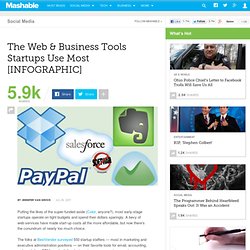 Le nombre de téléchargements d'applications connaît une croissance constante. Le boom des smartphones, et l'émergence des tablettes, a entraîné dans son sillon l'explosion des applications. Selon une étude menée par Flurry, en situation de mobilité, les applications natives seraient plus utilisées que les sites web. En 2011, les utilisateurs d'iOS devraient télécharger en moyenne 83 applis, contre 51 l'an passé, et les développeurs pourraient bien avoir à se partager une coquette somme : quelque 3 milliards de dollars.
Propulser son appli dans le Top des Stores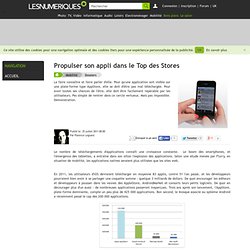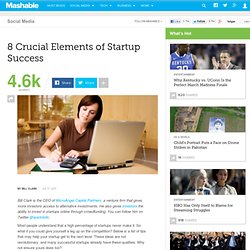 Bill Clark is the CEO of MicroAngel Capital Partners, a venture firm that gives more investors access to alternative investments. He also gives investors the ability to invest in startups online through crowdfunding. You can follow him on Twitter @austinbillc.
Spark Of Genius Series Presented by Microsoft BizSpark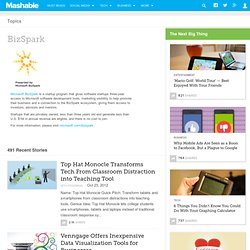 Name: Craftsy Quick Pitch: Online video tutorials for a range of crafts. Genius Idea: A baked-in e-commerce offering for patterns and supplies. In 2010, John Levisay realized that the "promise of online education was not being fulfilled." The former eBay and ServiceMagic executive went on later that year to found Craftsy, an online platform that teaches users a range of craft skills, from cake decorating to weaving, through paid video courses.