Cooking
ちゃあはん (Fried Rice) by Tomwool [クックパッド] 簡単おいしいみんなのレシピが152万品. Raspberry breakfast bars. We had a decadent weekend in the North Carolina mountains, and I never wanted to come home.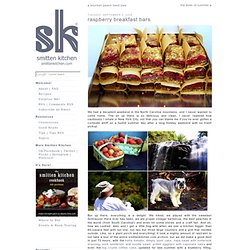 The air up there is so delicious and clean, I never realized how cautiously I inhale in New York City, not that you can blame me if you've ever gotten a curbside whiff on a humid summer day after a long holiday weekend with no trash pickup. But up there, everything is a delight. Aubergine and potato curry recipe.
Kids food
Roasted Fennel & White Bean Dip recipe from food52. Author Notes: I have always loved the White bean dip from Williams Sonoma.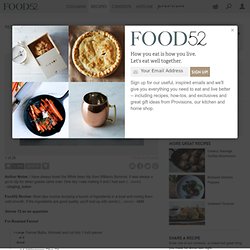 It was always a go-to dip for when guests came over. One day I was making it and I had some leftover roasted fennel from the night before and I pureed it into the dip; it was amazing! The next time I broiled some Parmesan cheese on top to create a crunchy texture and it was perfect. You could serve this with crostini, pita chips, or tortilla chips. Basically anything works. - singing_baker (less)Author Notes: I have always loved the White bean dip from Williams Sonoma. La Fuji Mama — Bringing world flavors to the family dinner table. Summer fruit, elderflower and prosecco jelly | Jamie Oliver Recipes.
Mama Manifesto: recipes. Yes, you read that right.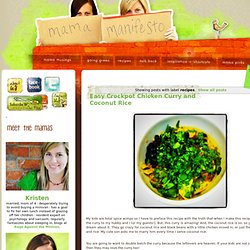 I have recently become completely addicted to kale. It was a vegetable that I must admit I was always a little intimidated by. I'd see it lurking on the shelves all dark green and healthy looking, but I did not know how to prepare it. So, I'd pass it by, heading to the veggies I am more familiar with. You could say I was in a veggie rut. Allrecipes.com - the top web site for recipes, food and cooking tips. It's frothy man. BBC Good Food - Recipes and cooking tips.
Tom Yum Soup - Tom Yum Soup Recipe. Soup to boost your immune system?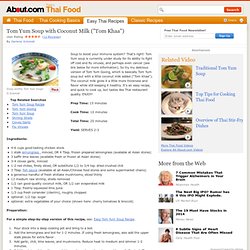 That's right! Tom Yum soup is currently under study for its ability to fight off cold and flu viruses, and perhaps even cancer (see link below for more information). So try my delicious version of Tom Yum Goong, which is basically Tom Yum soup but with a little coconut milk added ("Tom Khaa"). The coconut milk gives it a little more thickness and flavor while still keeping it healthy. Epicurious.com: Recipes, Menus, Cooking Articles & Food Guides. The Pioneer Woman | Ree Drummond.
---