Sugar
The Crazy Amount Of Sugar Hiding In Random Foods. Sad keanu - Flickr: Buscar. Shorts. Simpsons. Hey, c'mon. TmZHK. John Fahey - The Red Pony. Van Morrison - Into The Mystic (Original Version) Grant Green - Cantaloupe Woman. Bag Raiders Turbo Love. Grant Green Sookie Sookie. Lee Fields & The Expressions - I Still Got It. Firehorse - Our Hearts (single) Statued - Adem - Dead Man's shoes soundtrack [HQ] SMOG - Chosen One (Peel Sessions) Father John Misty - one of us cannot be wrong (cover) Marlena Shaw Woman of the ghetto. Lee Fields Faithful Man.
The Vox Jaguars - FRAIL. Meat Puppets - Scum. The Meat Puppets - Sam. Kath Bloom - What If I Found Out (1984) Atlas Sound - Shelia. Music Generators. New Look - The Ballad (GZUS Out Of The Dark Remix) Being - By Day. MitiS - Elements Of Thought. Kaskade - Lessons In Love (Headhunterz Remix) Official Video. About Us. Digital Drawing - Paper and Inkling SHOWstudio Tech Update.
Paper by FiftyThree is an application for the iPad that allows users to draw sketches, diagrams, illustrations, notes or doodles and instantly share them across the web.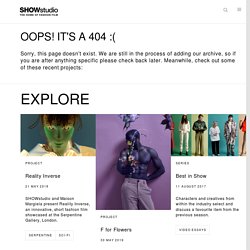 Although we have seen drawing apps before, Paper seems to take the next step towards digital applications becoming more realistic to sketching on paper. Designed to be used with a stylus the app provides a variery of pens (at an additional cost, which is a slight downside to the app), which are designed to provide the user with an authentic representation of the pens that they are based on. SHOWstudio - The Home of Fashion Film. INSPIRE / SPEAKER. The collaboration between brothers Ronan and Erwan Bouroullec is a permanent dialogue nourished by their differing personalities and shared perfectionism.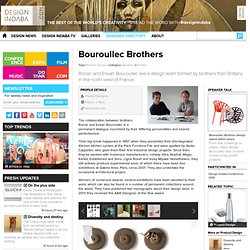 Their big break happened in 1997, when they presented their Disintegrated Kitchen kitchen system at the Paris Furniture Fair and were spotted by Giulio Cappellini, who gave them their first industrial design projects. Since then, they've worked with numerous manufacturers, notably Vitra, Kvadrat, Magis, Kartell, Established and Sons, Ligne Roset and Issey Miyake. Nonetheless, they still actively produce experimental work, of which there have been four exhibitions at Galerie Kreo, Paris, since 2001. They also undertake the occasional architectural project. Winners of numerous awards, several exhibitions have been devoted to their work, which can also be found in a number of permanent collections around the world.
Contemporary Furniture, Modern Furniture and Designer Furniture at Bonluxat.com. Pup 15. Nature by Numbers. We Are Star Stuff - Cosmic Poetry. CTwo ft Jay T - Conspiracy (CLIP) PEDRO PISTOLE - PANCHO and the VILLAINS. Blindfold - Ofsi. Flares - Terpentine. Ellie Goulding - Starry Eyed (Minnesota Remix) 15 Year Old Kuha'o Blind Piano Prodigy Plays Freestylers - Cracks. Exist Strategy - Distance. Tune Tuesdays Episode #2: Let Go from Exist Strategy. "Sway"Bic Runga. Matt Corby - Brother (Audio) Thirsty Merc - Mousetrap Heart. Gyroscope - Baby, I'm Getting Better. British India - Vanilla. Ronald Jenkees - Guitar Sound HQ. Praga Khan - Love. Praga Khan - Breakfast In Vegas. The Samuel Jackson Five - ... And Then We Met The Locals.
Praga Kahn - Breakfast In Vegas (Airscape Remix) Bryan Ferry - Is your love strong enough (+ David Gilmour) Poe: Haunted. Rob St. John - Stainforth Force. Hocico - Spirals of time. BIRDS OF TOKYO - PLANS (OFFICIAL VIDEO) Bucket Snake Girl ?!- [Siem Reap, Cambodia] Praga Khan - Far Beyond The Sun. Oomph! feat. Nina Hagen ~ Fieber ~ Suede - Wild Ones. Hypnolove- Flashy Pretty Girl.wmv. Hypnolove - Lembranca. Nina Hagen - Ziggy Stardust [Live 1980] Marlene Dietrich sings Lili Marleen in German.
---