The world, the earth, the planet
Earth View
Environmental news, energy news, climate change news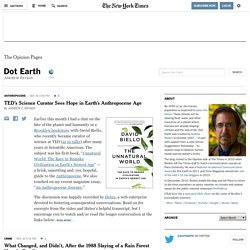 I had an extraordinary moment on the Palisades Parkway leaving New York City. In medium traffic moving about 50 miles per hour, with end-of-day sun slanting from the west, I could see something white and, seemingly, winged, flitting and darting within the flow of cars up ahead. Sure enough, it was a bird, moving at about the speed of the vehicles around it. I was thinking it must be a hawk, but as I caught up with it, I could see it was a pure white dove or pigeon — at my eye level — seemingly enjoying racing another Prius.
Society, the way it works and consumerism
Where I will go when I'm big
World Map
The Breathing Earth simulation Welcome to Breathing Earth. This real-time simulation displays the CO2 emissions of every country in the world, as well as their birth and death rates. Please remember that this is just a simulation.