The world, the earth, the planet
Earth View
Environmental news, energy news, climate change news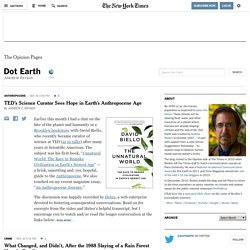 I was invited to explore the feeding frenzy surrounding the dreaded polar vortex on the NPR show On The Media. The segment, "Sucked Into the Polar Vortex," is fun and brief. Give a listen here (I'll add a transcript link when there is one): In the introduction to an interview segment with me on mischaracterizations of Arctic weather whiplash in the context of global warming, David Gray of the CBC in Calgary gave the phrase "po-l-a-r-r-r vor-r-tex-x-x" a great ironic echo treatment here.
Society, the way it works and consumerism
Where I will go when I'm big
World Map
The Breathing Earth simulation Welcome to Breathing Earth. This real-time simulation displays the CO2 emissions of every country in the world, as well as their birth and death rates. Please remember that this is just a simulation.