The Hunger games
Which charecter r u??
Catnip
Quote
The Hunger Games - quiz | Books
amazon.co (buy the books)
The book received mostly positive feedback from major reviewers and authors. It was praised for its storyline and character development, though some reviewers have noted similarities between Collins' book and Koushun Takami's Battle Royale (1999). In writing The Hunger Games, Collins drew upon Greek mythology, Roman gladiatorial games, and contemporary reality television for thematic content. The novel won many awards, including the California Young Reader Medal, and was named one of Publishers Weekly's "Best Books of the Year" in 2008. Background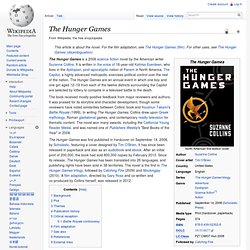 The Hunger Games Official Trailer
Hunger Games (2012) - Full cast and crew
The place to view the 75th Hunger Games was right where we were. by Kaysa Minox As our collective eyes are riveted to our hologram screens, we join together as a nation to watch our much-loved Victors enter the arena once more. But the yearly intensity of the Hunger Games doesn't end there—nor do the festivities of a Quarter Quell. Naturally, the most elaborate viewing parties are going on right here in the Capitol. Our annual Panem-sponsored fete is reserved for the city's elite, hosting everyone from escorts to architects, engineers to artists.