Twitter,
Tweeting and Multi-posting from your Profile!
See what journalists are saying on Twitter with JournalistTweets from Cision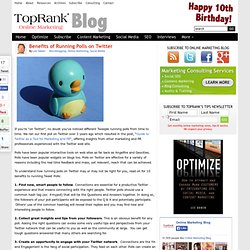 Twitter Tips: 10 Benefits from Tweet Polls - Online Marketing Blog
If you're "on Twitter", no doubt you've noticed different Tweeple running polls from time to time. We ran our first poll on Twitter over 3 years ago which resulted in the post, "Guide to Twitter as a Tool for Marketing and PR", offering insights from other marketing and PR professionals experienced with the Twitter web site. Polls have been popular interactive tools on web sites as far back as Angelfire and Geocities. Polls have been popular widgets on blogs too.