Podcasts
CES: Vudu to start streaming 3D movies. Vudu's streaming service is now offering 3D movies, the company announced today.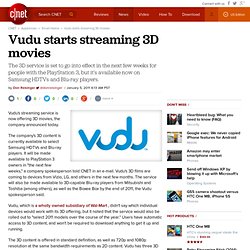 The company's 3D content is currently available to select Samsung HDTVs and Blu-ray players. It will be made available to PlayStation 3 owners in "the next few weeks," a company spokesperson told CNET in an e-mail. Vudu's 3D films are coming to devices from Vizio, LG, and others in the next few months. The service will also be made available to 3D-capable Blu-ray players from Mitsubishi and Toshiba (among others), as well as the Boxee Box by the end of 2011, the Vudu spokesperson said. Vudu, which is a wholly owned subsidiary of Wal-Mart , didn't say which individual devices would work with its 3D offering, but it noted that the service would also be rolled out to "select 2011 models over the course of the year.
" Gadget megatrend: From one mobile market to many. For the longest time, mobile devices came in clear, separate categories: laptops, phones, handheld game players, and music players.
But with the arrival of smartphones, tablets, and smarter everyday gadgets, the market is exploding, mixing together, and fragmenting into different subsectors. That's one of the things to expect at the Consumer Electronics Show, which opens this week in Las Vegas, according to the analysts who gave the show's opening talk to the press. The trend is a sign that companies which focus on creating more specialized gadgets will likely find customers over time, as long as they solve a problem that can't be solved by a universal device such as a smartphone.
Americans Spend As Much Time on Internet As Watching TV: Report. It had to happen.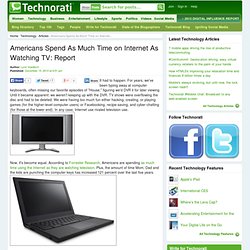 For years, we've been typing away at computer keyboards, often missing our favorite episodes of "House," figuring we'd DVR it for later viewing. Until it became apparent: we weren't keeping up with the DVR. TV shows were overflowing the disc and had to be deleted. We were having too much fun either hacking, creating, or playing games (for the higher-level computer users) or Facebooking, recipe-saving, and cyber-chatting (for those at the lower end).
Uncommon Knowledge: Andrew Breitbart. Bio Andrew Breitbart Andrew Breitbart is an American publisher, commentator for the Washington Times, author, an occasional guest commentator on various news programs who has served as an editor for the Drudge Report website.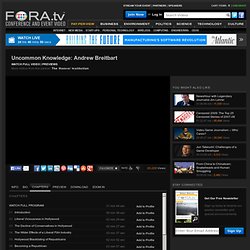 He was a researcher for Arianna Huffington, and helped launch her website, The Huffington Post. He currently runs his own news aggregation site, Breitbart.com, and five other websites: Breitbart.tv, Big Hollywood, Big Government, Big Journalism, and Big Peace. He is the author of Hollywood, Interrupted: Insanity Chic in Babylon -- The Case Against Celebrity.