Freelance
40 Places Where Freelancers Can Learn More About Business - FreelanceSwitch - The Freelance Blog
12 Tricks for Optimizing Your Freelance Career – FreelanceSwitch
The day and life of a freelancer can get pretty hectic. It seems all too often we forget that we hold more than the title "boss". We forget how best to manage our expenses and disposable income.
There is a lot of great freelancing advice out there, both on this site and on many others. Anyone who wants to make it as a freelancer has many resources available to help them with what they need to know — everything from dealing with problem clients, to finding them in the first place, to organizing taxes and so on. In fact, there is so much good advice about what you should be doing that I think it's helpful to look in the opposite direction — at things that might be holding you back. In this post, I've created a list of 5 big mistakes that could be holding you back from freelance success. Make a little progress with these, and your freelancing will see some definite improvement. Let's get started…
Are These 5 Mistakes Holding You Back from Freelance Success?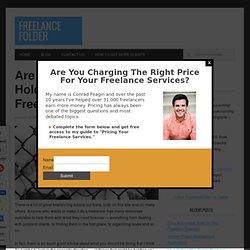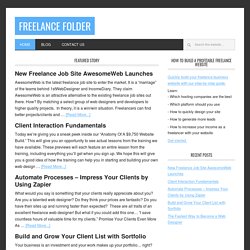 To be your most productive, you need to understand how to take better care of our body. How you treat your body does affect your freelancing work. Over time, bad body habits can negatively affect your freelancing productivity. Bad habits may also cause other health issues.
6 Simple Ways For Freelancers To Increase Productivity | How-To
Advertisement The best part about being a freelancer is having the freedom to set your own schedule and make your own rules. This, however, can also be the worst part.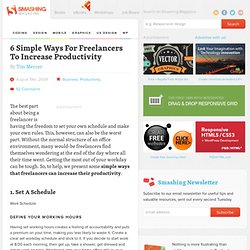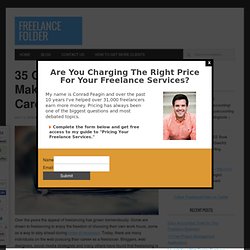 35 Online Tools That Make Your Freelance Career Easier
Over the years the appeal of freelancing has grown tremendously. Some are drawn to freelancing to enjoy the freedom of choosing their own work hours, some as a way to stay ahead during times of recession. Today, there are many individuals on the web pursuing their career as a freelancer. Bloggers, web designers, social media strategists and many others have found that freelancing is a great way to utilize their skills and sell their services through the wonderful medium we call the internet. Although freelancing appeals to many, the stakes are quite high.
Envato Studio is an online marketplace for freelance services focused on design and web-development. Services range from designing a logo to WordPress customization, and all service providers have been reviewed and recommended by our expert review team. If you were a user of the FreelanceSwitch Job Board (as either a freelancer or client) we recommend you check out Envato Studio. Also check out the Envato Studio Blog.