Facebook
Facebook Strategy For Your Small Business. Do you have it backwards when it comes to Facebook?
Here's what no one in the social media space seems to want to say: Facebook is a difficult place to reach new eyeballs organically if you do not already have good brand awareness. There I said it. 12 Applications to Make Your Facebook Page More Engaging. Currently, there are more than three million active Facebook Pages on the top ranked site, with the typical Page boasting an average of less than 1,000 fans — oops, I mean 'likes' (seriously, that just doesn't roll off your tongue quite the same way).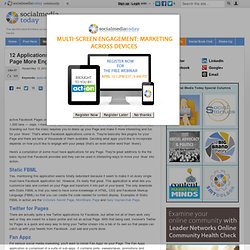 Standing out from the static requires you to dress up your Page and make it more interesting and fun for your 'likers'. That's where Facebook applications come in. They're basically like plugins for your Page and there are tens of thousands of them available. Deciding what apps you'd like to incorporate depends on how you'd like to engage with your peeps (that's an even better word than 'likers').
---